Kapaz服裝創作工作室 -穿上最舒適的衣著 在日常中尋回與自然的連結 Kapaz Clothing Creativity Studio- Put on the most Comfortable Clothing, Find Back the Inborn Connection with Mother Nature in Daily Life.
陽光普照的臺東,一如既往的耀眼,沿著台11線走,就能抵達離太平洋不遠的臺東縣原住民文化創意產業聚落,簡稱TTICC原創聚落,這裡座落著一處值得您深度認識的服裝工作室-Kapaz服裝創作工作室。
It's a sunny and shiny day in Taitung. I rode the scooter along Highway 11, arriving at Taitung Indigenous Culture and Creative Industries Park which is next to Pacific Ocean. Here is a clothing studio which is worth for your deep understanding, named Kapaz Clothing Creativity Studio.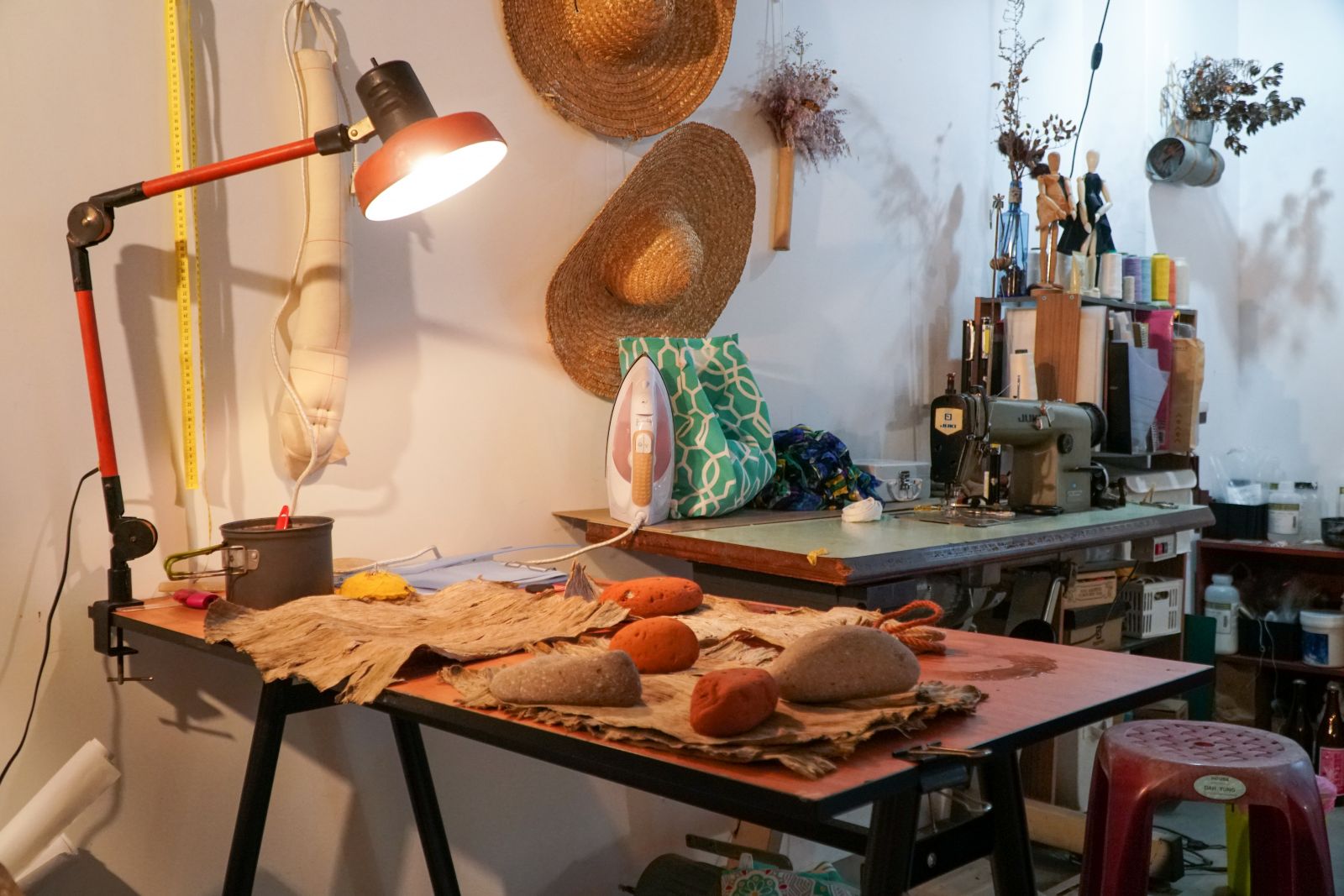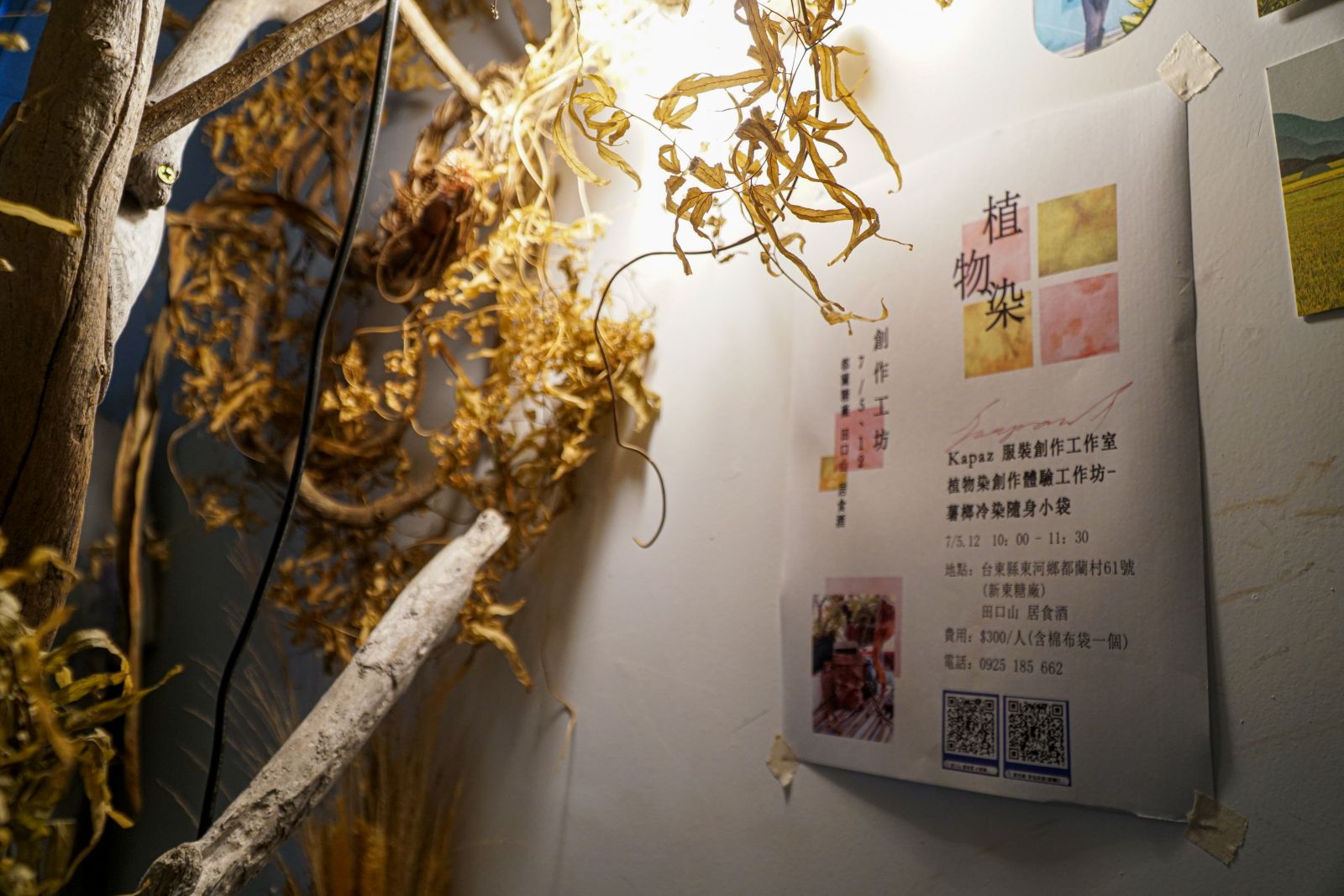 一推開工作室的木製大門,你絕對會被眼前的光景所驚喜,大自然的況味充斥空間,暖黃的光妝點著漂流木、樹葉以及花朵,交織成專屬於Kapaz的生態系,創辦人昀庭領我們坐下,緩緩介紹起自己一手打造的工作室。Kapaz服裝創作工作室,源自於排灣族語的「根」,以女性的服飾為主,偏好使用棉麻、薯榔等天然材質,創作手法也相當多元,包括手染、編織以及古著再製,期望以最舒適的膚觸,時刻提醒人們找回與自然的連結。在創作的同時,昀庭也會開設植物染、編織工藝的體驗課程,讓更多人瞭解植物染之美。
Once you open the wooden door, you'll definitely be shocked by what you have seen. There's an ecosystem named Kapaz inside, with driftwoods, leaves and flowers covered by yellow light. Yun-Ting, who is the founder of the studio, guided us to sit down, and started to tell us the story about this studio which she had built up. The name "Kapaz Clothing Creativity" originates from "roots" in Paiwan, mainly focusing on female clothing, preferring to use natural material such as cotton, linen and dye yam, also creating through tie-dyeing, weaving and clothing remake, expecting to remind people of the connection with Mother Nature by the the most comfortable touch. At the same time, she also offers courses about it, for letting more people know the beauty of handicraft art.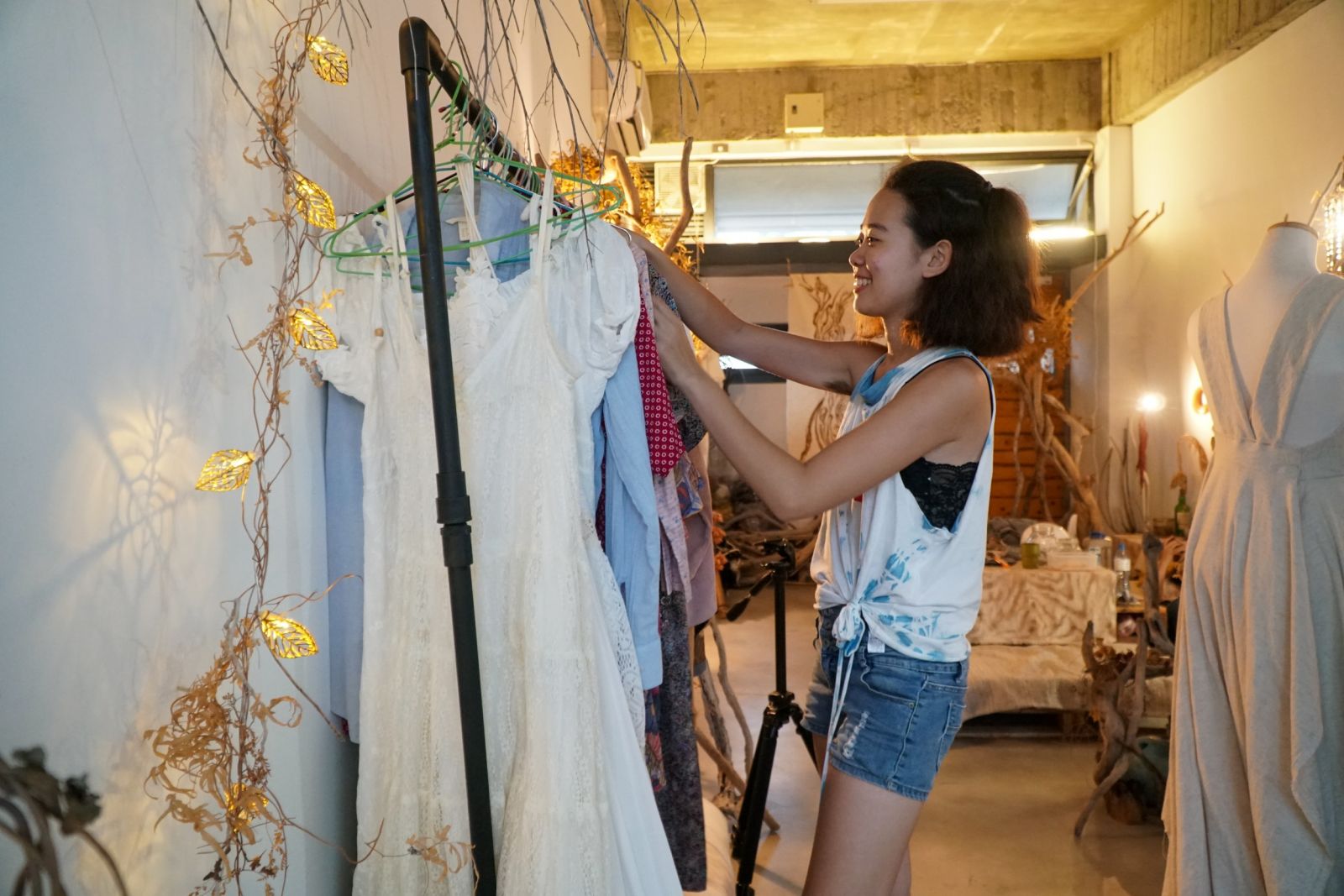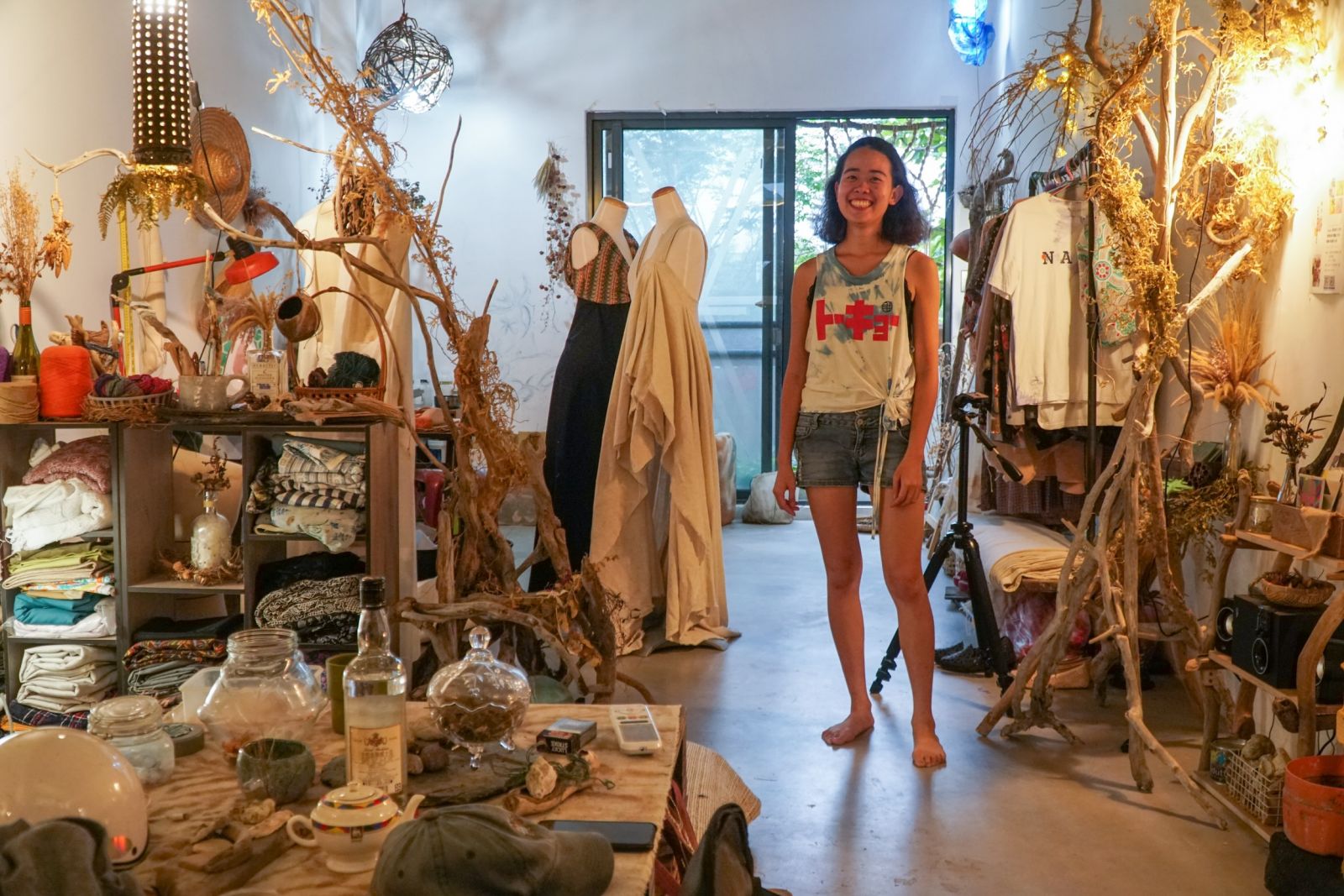 談起工作室的初始,就不得不提起昀庭與臺東的邂逅。2019那年夏天,她參與了臺東國際工藝串流活動-即刻手感,這是土生土長的臺北女孩第一次踏入臺東,當時他在歷坵部落隨著羅安聖老師學習植物染、苧麻、編織等,並在過程中看見魯凱族文化對大自然的深刻連結。這是昀庭過去生命中從未存在的體驗,在山與海中感受到滿滿的安全感,於活動尾聲,昀庭做出一套名為「根Kapaz」的衣服。然而回臺北後,卻一直感覺到心裡缺了一塊,讓她回想這段時間的經歷,反覆思索「為什麼人與自然失去連結?」,帶著尋找答案的念頭,昀庭毅然決然搬到臺東。
Talking about the origin of the studio, we should talk about the encounter with Taitung. In summer of 2019, Yun-Ting participated in an activity named 2019 Craft Taiung - Project Them : Hand On Craft Now. It's the first time she who was brought up in Taipei stepped into Taitung, at that time, she followed a teacher to learn how to dye and weave in Rulakes Tribe, and was impressed by the deep connection with nature in Rukai Culture. She was filled with the sense of comfortable between the mountains and the sea, and it was something she never experienced in her whole life. At the end of the activity, she made a suit named "Kapaz". However, when she went back to Taipei, she found something missing in her heart. She recalled the memories in Taitung, thinking about the question that "Why do people lose connection with Mother Nature?" back and forth, then, she decided to move to Taitung to figure out the answer.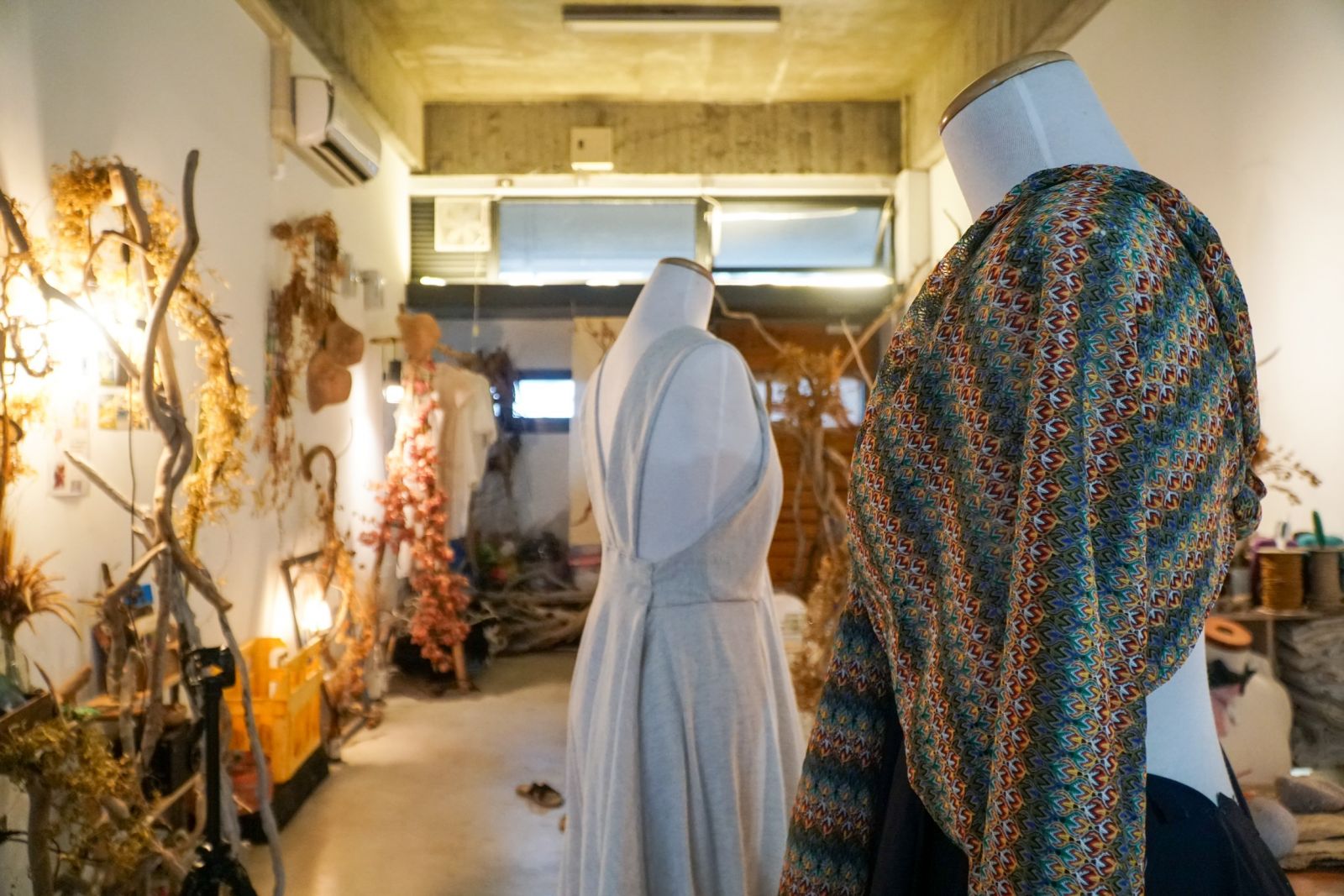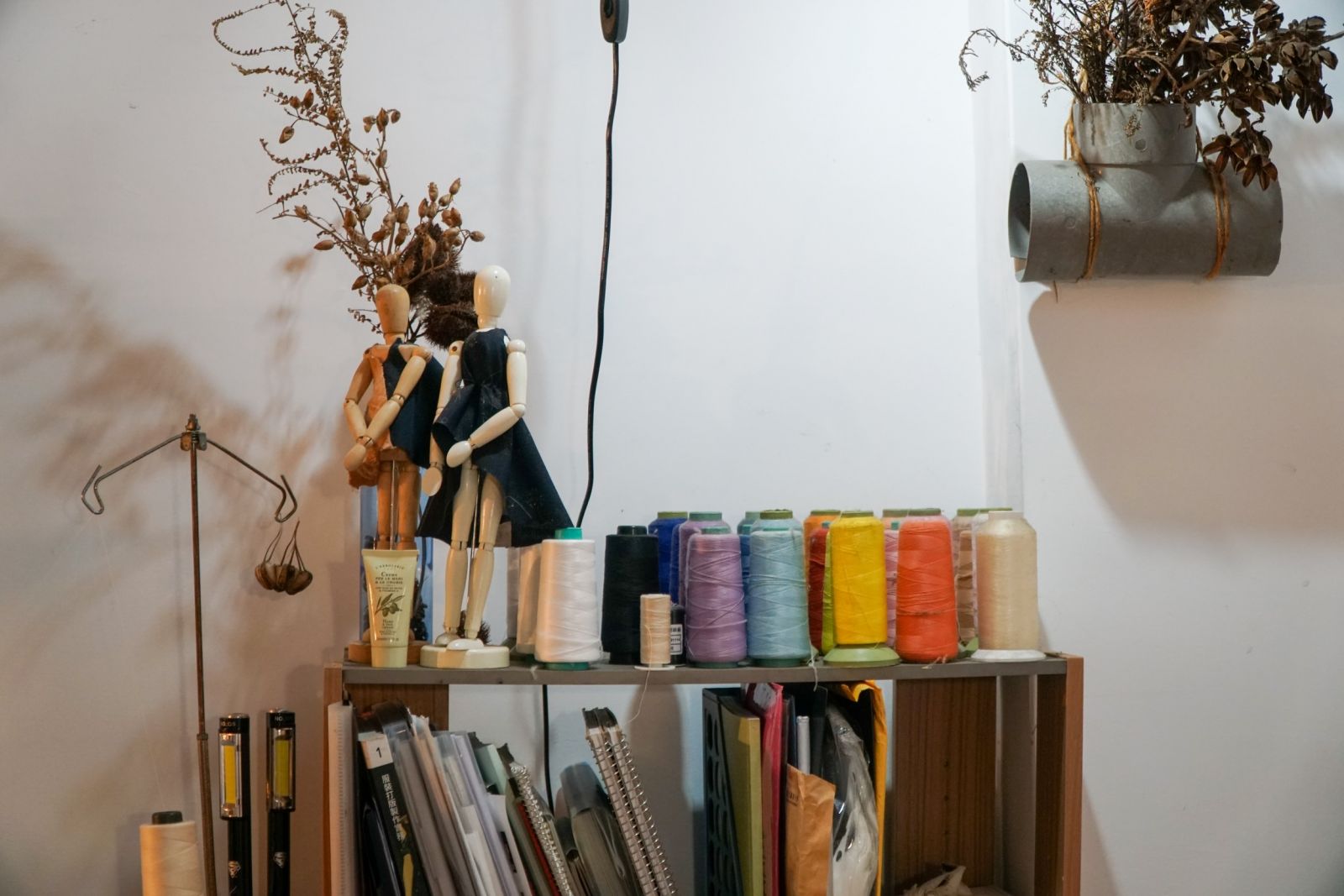 在臺東生活一段時日後,昀庭跟隨自己的初心,創立Kapaz服裝創作工作室,Kapaz的名字,就是源於與臺東初遇的創作,代表尋根,也象徵起源。昀庭說,Kapaz服裝創作工作室的創作面向相當多元,唯一不變的堅持就是「舒適度」,人降生於世的第一件事,就是被布包裹起來,說明衣物在人生命中是如此親近的事物,然而在工業化的過程中,大多數人追隨快時尚的腳步,過程中浪費不少珍貴的衣物,進而漸漸遺忘人與衣物那深刻的連結。昀庭認為這樣相當可惜,她說:「服裝不該只為追逐快速與美觀,更需重視其舒適感,及伴隨而來的永續意識,後兩者息息相關,回歸衣服的本質,唯有穿起來舒適,人才願意重複穿,而這正是通往永續價值的鑰匙。」為了實踐此願景,昀庭綜合經驗與理念,將「天然」與「舒適」視為工作室的創作準則,以植物染洋裝為招牌,剪裁以飄逸、垂墜感營造出大自然的清新韻味,染色則以薯榔為主要染材,可繪畫、可刷色也可浸泡,服裝樣貌千變萬化。而說起創作日常,昀庭習慣在海邊煮染液,除了海水的鹽分會讓色彩更鮮明外,她在海邊與大自然交換心情的過程,更是品牌精神中非常重要的一環-「找回與自然的連結」。
After living in Taitung for a period of time, Yun-Ting followed her heart, establishing Kapaz Clothing Creativity Studio, and the name is based on the work when she first met Taitung, which not only means the beginning of this lifestyle but also means searching for our roots. She said she had tried a lot of creation material and methods, and the only one persistence is a sense of comfort. When we were born in this world, the first thing we encountered was being covered by a blanket. It represents that clothing is a really close thing to human beings. However, in the process of industrialization, instead of feeling the deep intimacy with clothing, most people only follow the step of fast fashion, and waste a lot of precious clothing materials. Yun-ting thought it's a pity, she said "Clothing shouldn't be only for pursuing fast and fashion, but also for a sense of comfort and the sustainable consciousness that follows. They are closely related to each other. Only when people feel the clothing is comfortable, they would be willing to wear it again and again, and that's the key to sustainability." , and she hopes to bring back the value of clothing through her creation. In order to fulfill the dream, Yun-ting mixed her experiences and ideals, setting "Natural" and "Comfortable" as the creation rules of Kapaz Clothing Creativity Studio. The natural-dyed dress is the signature clothing, mainly making slouchy and elegant cuts, dyeing by natural material such as dye yam, creating a variety of clothing by many coloring methods. And in the daily creation time, she is accustomed to boil the dye liquor at the seaside, not only for creating a brighter coloring but also for feeling the mood of Mother Nature, and it's also the most important brand spirit - "To Find Back the Connection with Mother Nature".

Kapaz服裝創作工作室創立近一年,過程中有苦也有樂,問起昀庭未來的計畫,他提起了即將展出的創作,展覽名稱為「土地上的人」,昀庭將以四套服裝參展,主題以大自然的生息-夏、秋、冬、春為主軸。夏季為與大自然連結的初始,也是品牌的緣起,因此將展出在歷坵部落做出的「Kapaz根」以棉麻基底展現土地的韌性;秋季是衝浪的季節,昀庭以染液呈現與在海中翻騰的感受,海浪的波紋以及撫觸都盡收其中;冬季是爬山的季節,昀庭將都蘭山中霧濛濛的光景、藤蔓的攀升與參天的樹木都盡收為創作養分;春季是浮淺的季節,昀庭被珊瑚的繽紛多彩深深感動,因此便將珊瑚快樂舞蹈的美染上衣裳。以四季作為主軸,紀錄被大自然感動的生活韻律。昀庭說,服裝是個能透過膚觸讓人真切感受到與自然連結的事物,希望大家能穿著舒適、自然的材質去貼近自然,並在每一天實踐,畢竟她真切相信,每個人心中都有嚮往大自然的一塊,只差在有沒有被喚醒而已。
Kapaz Clothing Creativity Studio has been established for one year, undoubtedly there are highs and lows in the process, and when talking about the future plan, Yun-ting said her new works would be on show at the exhibition named "People on the Land". The new creation included four suits, taking "seasons" as the main line. In summer, she first reconnected to the natural world, also the origin of the brand, so she would display "Kapaz" which she created in Rulakes Tribe to show the toughness of the land through cotton and linen base; In fall, she had a really good time going surfing, so she dyed the clothing to present the ripples of the billowing ocean, as well as her feeling down the sea level; In Winter, she loved to go hiking, and kept the misty air, spreading vines and towering trees in Dulan Mountain as creating nutrients; In Spring, she went diving in Green Island, and was greatly touched by the pavoline view of corals, so she dyed the happy dancing corals on the suits. Through these four suits, she documented her daily life about being with nature in summer, fall, winter and spring. Yun-ting said, Clothing is something that people would truly feel the connection with nature through skin touch. Hope people put on the most comfortable and natural clothes to get close to Mother Nature in daily life. After all, She always believes that there's a part about the love of nature in everyone's heart, only whether being awake or not.