帆船不只是項運動,更是與大自然和諧共處的生活模式
「帆船不只是項運動,更是與大自然和諧共處的生活模式」
台東帆船學校-小飛
Sailing is not just a sport, but a lifestyle in harmony with nature
Federico Davicino - Taitung Sailing School
台東森林公園裡的活水湖,湖水清澈見底、以層層的山巒為背景,是台東市民口中「世上最大的游泳池」。今年夏日,活水湖面特別的熱鬧,孩子們在水中嬉鬧、數艘揚著帆的小船輕輕地劃過水面。這裡,也是台東帆船學校的平靜水域教育基地,岸上以笑容默默在一旁守候,滿頭金髮的陽光大男孩,他是台東帆船學校的創辦人-西班牙籍的帆船教練Federico,人們都叫他小飛。
The crystal-clear Flowing Lake in Taitung Forest Park, with the layers of mountains as its backdrop, is the "world's largest swimming pool" according to Taitung residents. This summer, the lake was particularly lively, with children playing in the water and a few boats gently paddling across the water. This is also the calm water education base of the Taitung Sailing School. On the shore, the sunny boy with a smile and a head of blond hair is the founder of the Taitung Sailing School, Federico, a Spanish sailing instructor known as Fei.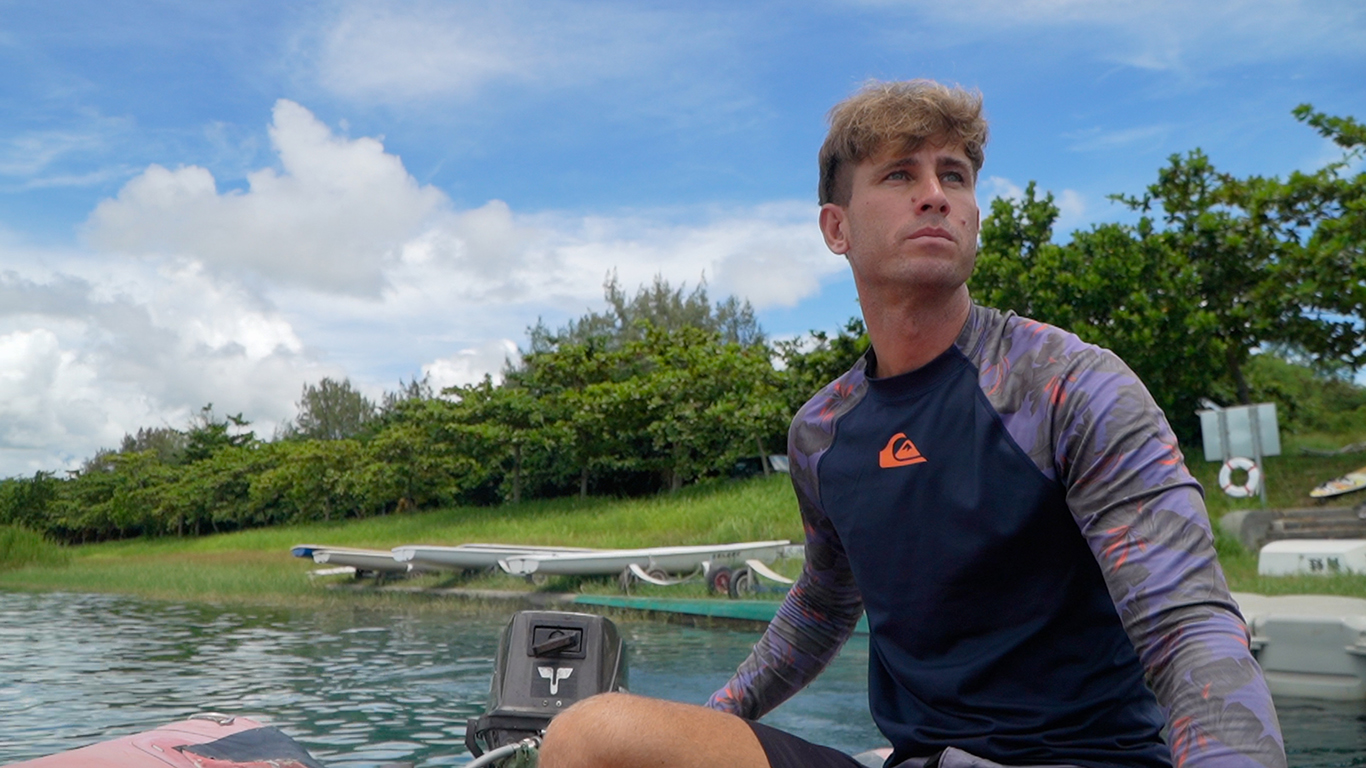 小飛在青少年時期是西班牙的帆船選手,曾經周遊美國、紐西蘭、中國,在世界各地擔任帆船教練,在因緣際會之下來到了台灣。迷上了台灣的人情、台東的海,於是留在了都蘭,一留不小心就是7年。初來到台灣的小飛,一開始也想找個帆船教練的工作,但因為帆船運動在台灣實在是太冷門了,相關的工作機會很少。但又深深的被台東所吸引,大門打開就可以到森林、到海邊,於是落腳都蘭,一邊經營咖啡廳、一邊慢慢籌劃著他的帆船夢想。
As a teenager, Little Fei was a sailor in Spain. He had traveled to the United States, New Zealand, and China, and worked as a sailing instructor all over the world. He came to Taiwan by chance and was fascinated by the people and the ocean in Taitung. He decided to stay in Doulan. It has already been 7 years since he made this decision. When he first came to Taiwan, Little Fei wanted to find a job as a sailing instructor. Since sailing is so rare in Taiwan, there were very few job opportunities. However, he was deeply attracted by Taitung, where he could venture into the forest and swim in the sea just outside of his house. He settled in Doulan and slowly planned his sailing dream while running a cafe.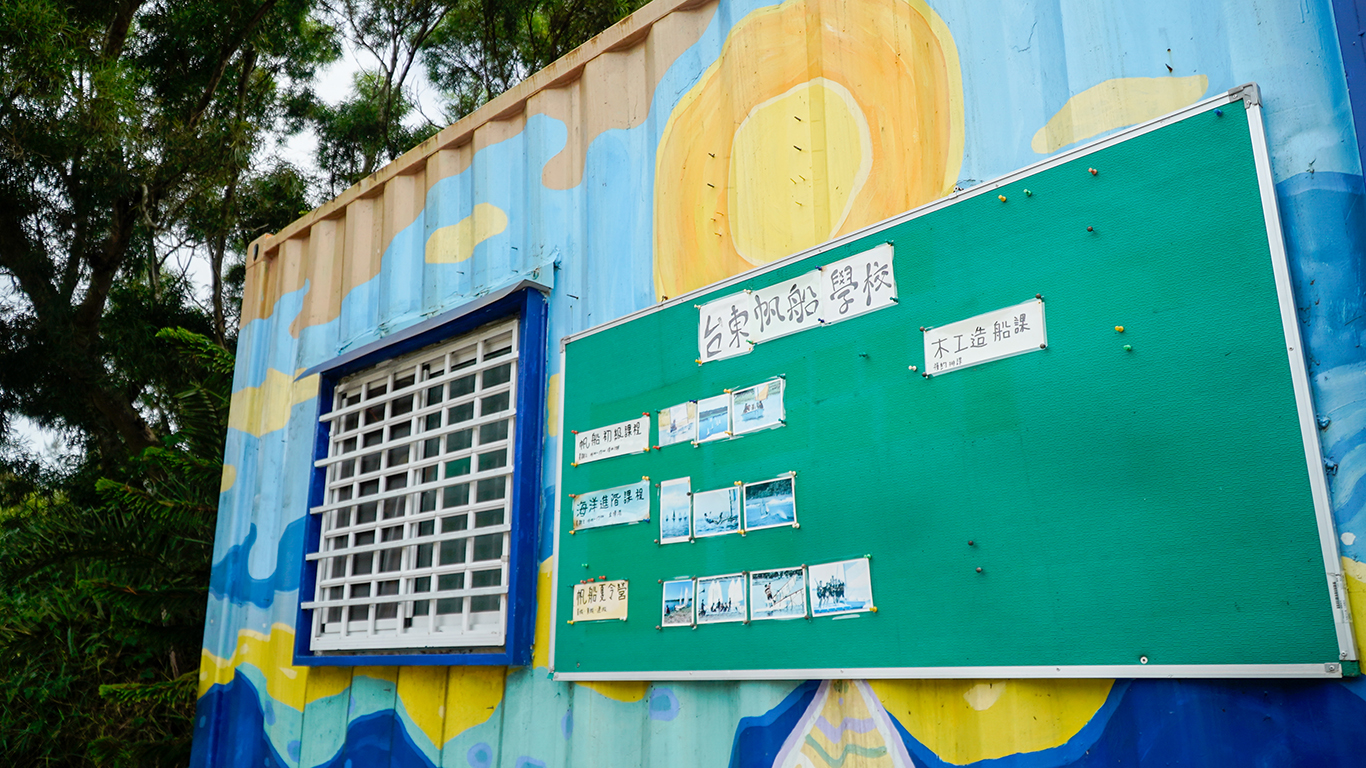 ---
 

如果台東沒有,那就夢想有一間自己的帆船學校吧!

 
If Taitung doesn't have one, then dream of having your own sailing school!
一邊經營咖啡廳的小飛,時刻都惦記著他所喜愛的帆船,剛開始在咖啡廳內也開設體驗課程,推廣帆船運動。但是在這個視覺化優先的時代,遊客們總是不耐、也不願得聽帆船學理上的知識,僅只想趕緊拍照將自己揚帆航行的英姿拍下。經歷一段時間的體驗課程後,面對遊客的無奈與消耗,小飛發現了,自己所真正喜歡做的是「教育」,關於帆船、關於海洋、關於自然。
While running a cafe, Little Fei was thinking about sailing all the time. He had offered experiential courses in the cafe to promote sailing. However, in this age of prioritizing visualization, tourists were always impatient and unwilling to listen to the theoretical knowledge of sailing, but only want to take pictures of themselves sailing. After facing the reluctance and frustration of tourists, Little Fei discovered that what he really likes to do is "education" about sailing, the ocean, and nature.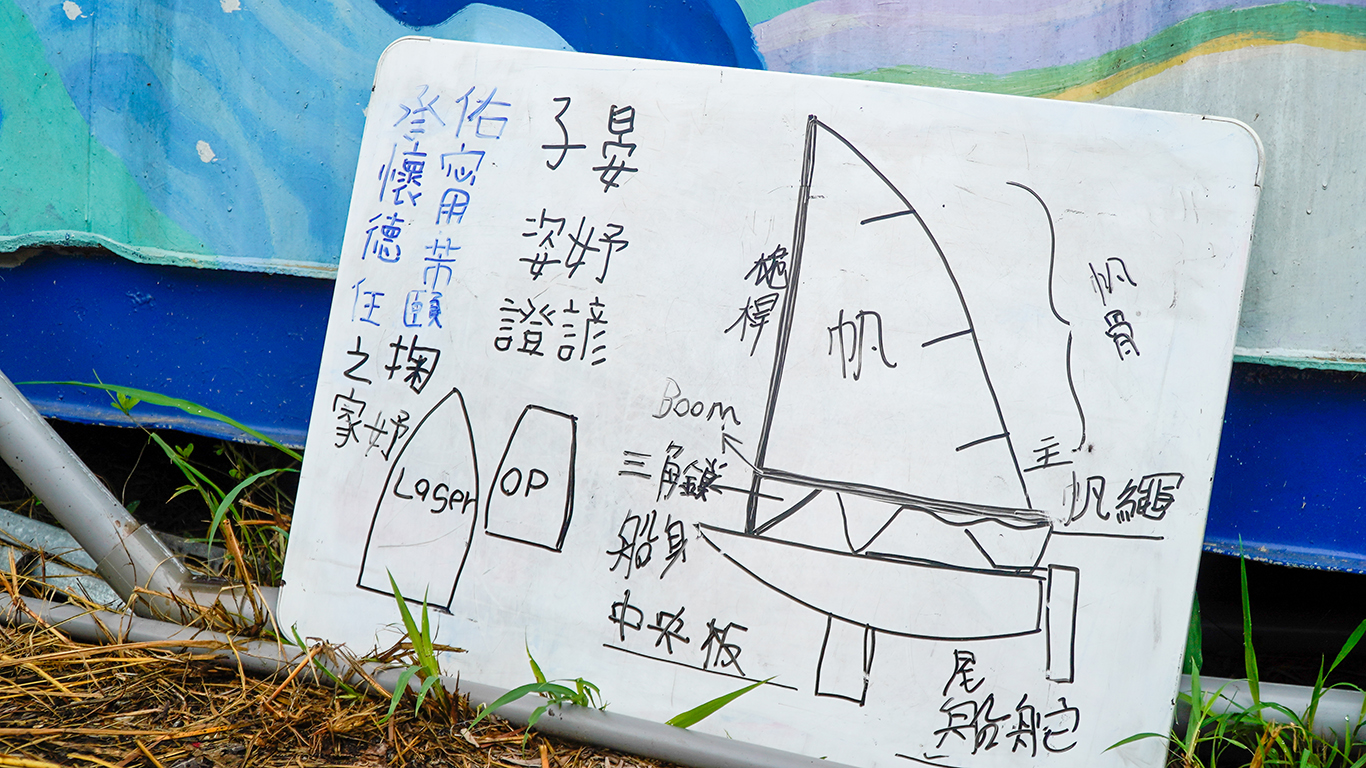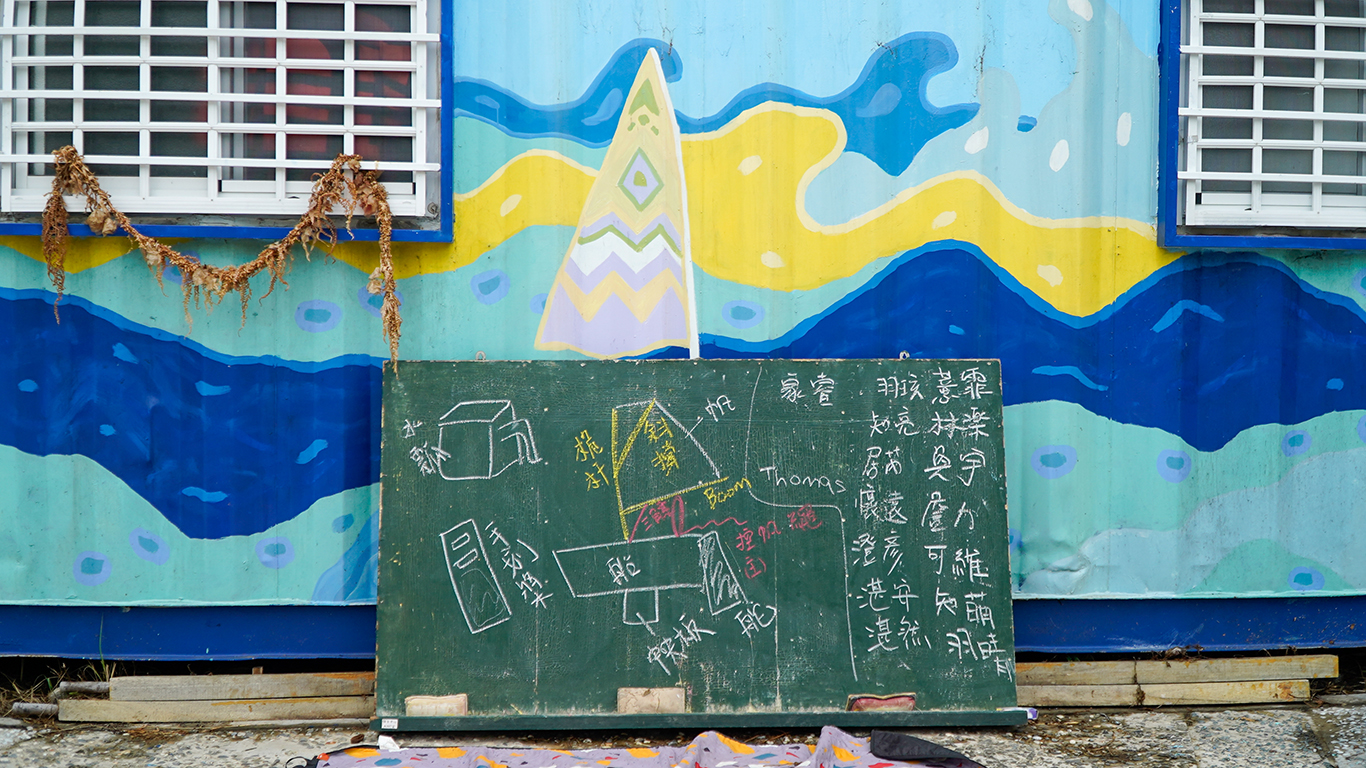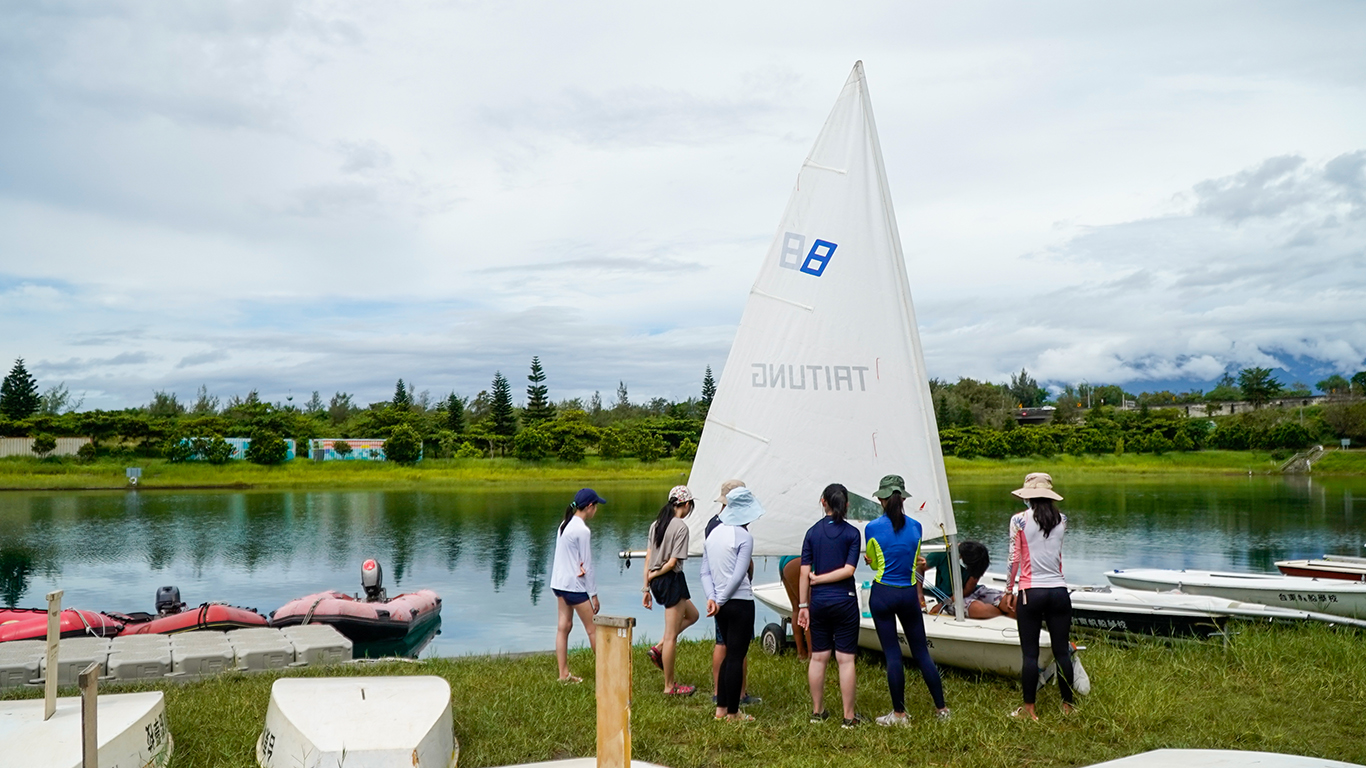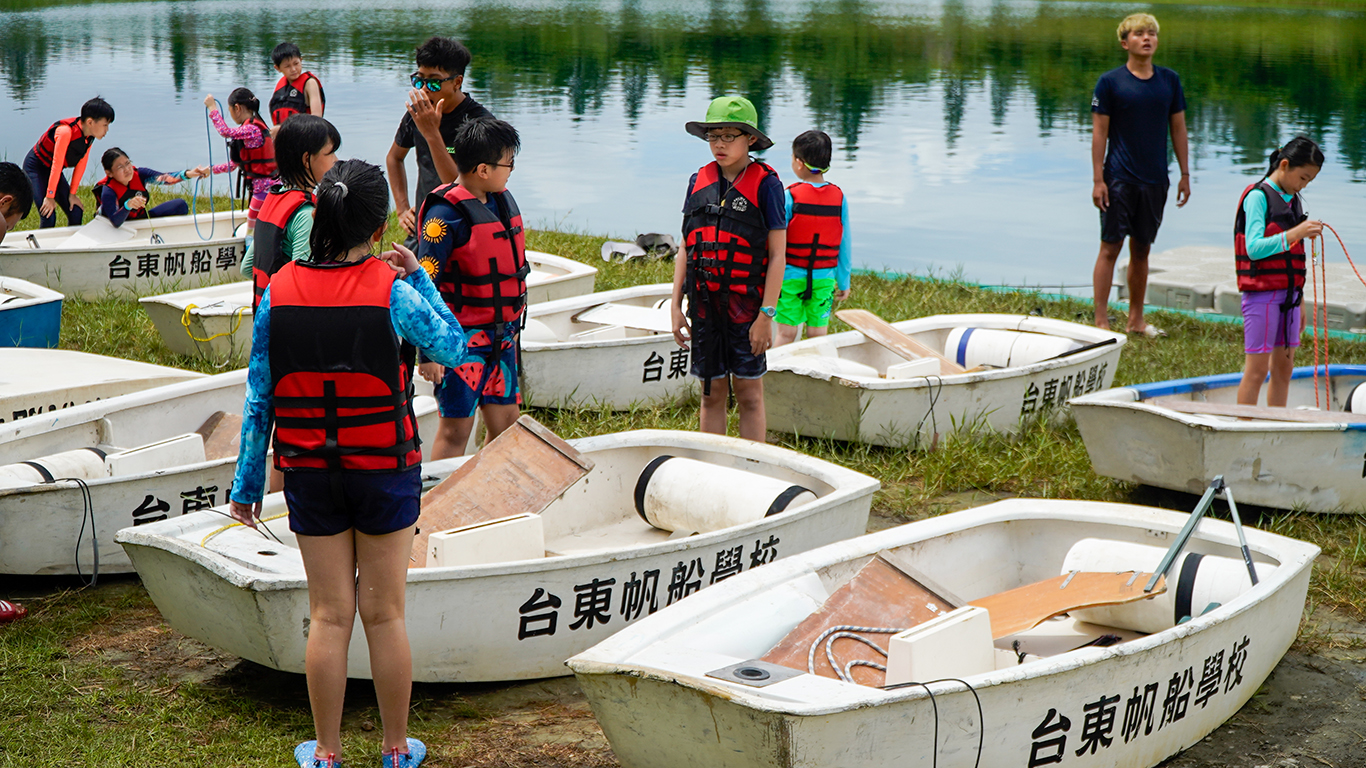 ---
 

孩子們在戶外有空間可以跑、可以闖、可以冒險,可以更有自信!

 
Children have outdoor space to run, venture, explore, be more confident!
「操作帆船,需要注意身體的平衡、調整帆與風的角度、掌舵確認航行的方向,還要不時的觀察風向、觀察海流、海浪、有沒有被漂走的風險….。」聽著小飛的講解,操作帆船並非易事。「但是…其實這些操作技術都不是重點,重點是要克服心理的恐懼!有自信能夠面對各樣的變化。」
孩子們學會開船後,慢慢地進步,慢慢地學會觀察很多東西,風什麼時候轉了彎?浪什麼時候變大?一開始總會驚惶失措荒亂了手腳,在不段的嘗試與摸索中訓練孩子們一定要可以自己去克服這個問題,因為在船上的只有自己,只有自己能夠對自己負責。相信自己是有能力能夠解決的,即使狀況改變了的時候,也是可以有滿滿的信心的確信自己可以克服這些困難。
這時一旁「咚!」的一聲,孩子由船身落入水中,只見他們優遊自得在水中游泳絲毫不畏懼。或許這就是小飛口中在大自然裡對自我負責的自信吧。
"To operate a sailboat, you need to pay attention to balancing your body, adjusting the angle between the sail and the wind, navigating the boat to the correct direction, and also observing the wind, the current, the waves, to make sure you are not being drifted away...." According to Little Fei, sailing a boat is not an easy task. "In fact, these skills are not the most important, the key is to overcome the psychological fear! You have to face all kinds of variations confidently."
After the children knew how to sail the boat, they slowly progressed and learned to observe many things. When will the wind turn? When will the waves get bigger? At the beginning, there is always panic and confusion. In continuous attempts and exploration, the children must overcome these problems themselves. Since they are the only one on the boat, only they can be responsible for themselves. Believe that they are capable of solving the problem. Even when the situation has changed, they can have full confidence that they can overcome these difficulties.
"Splash!" A child fell into the water from the boat, and they swam freely in the water without any fear. Perhaps this is what Little Fei meant by the confidence in taking responsibility for oneself in nature.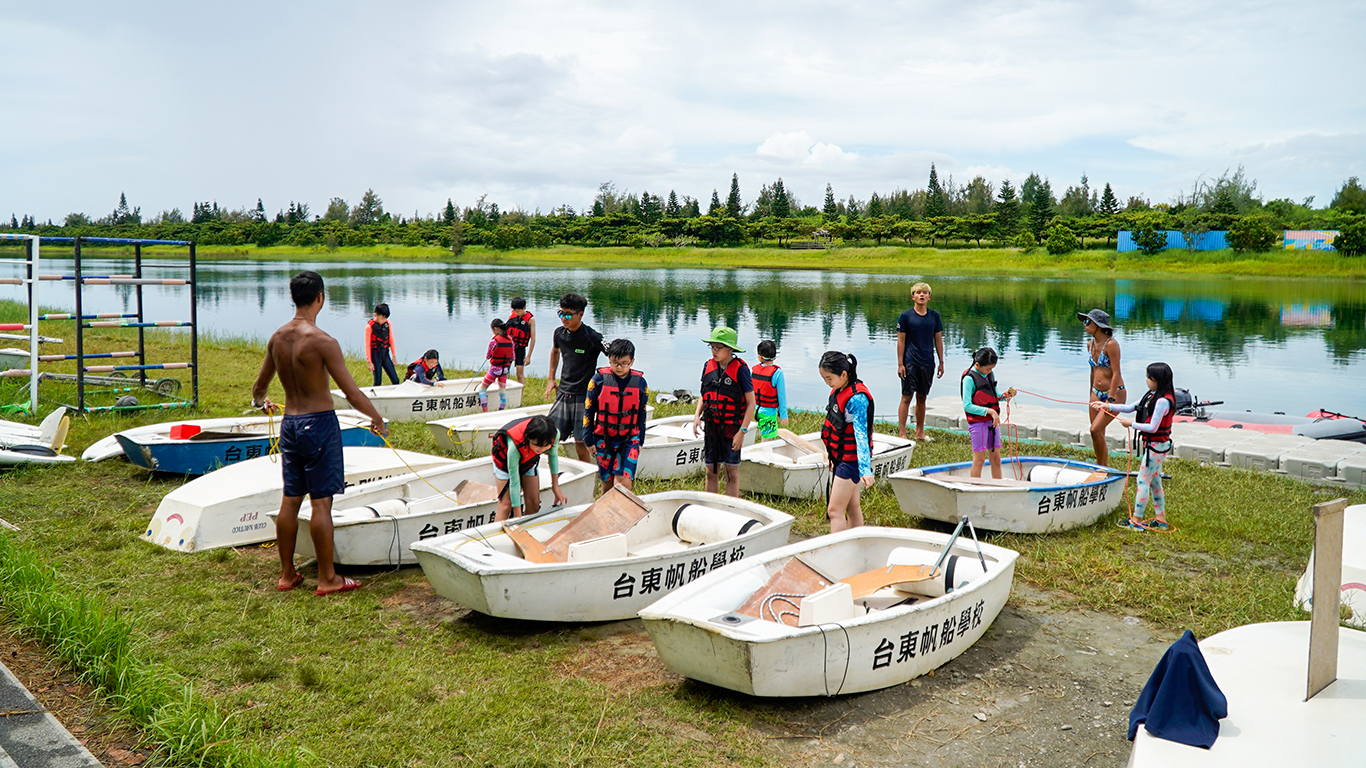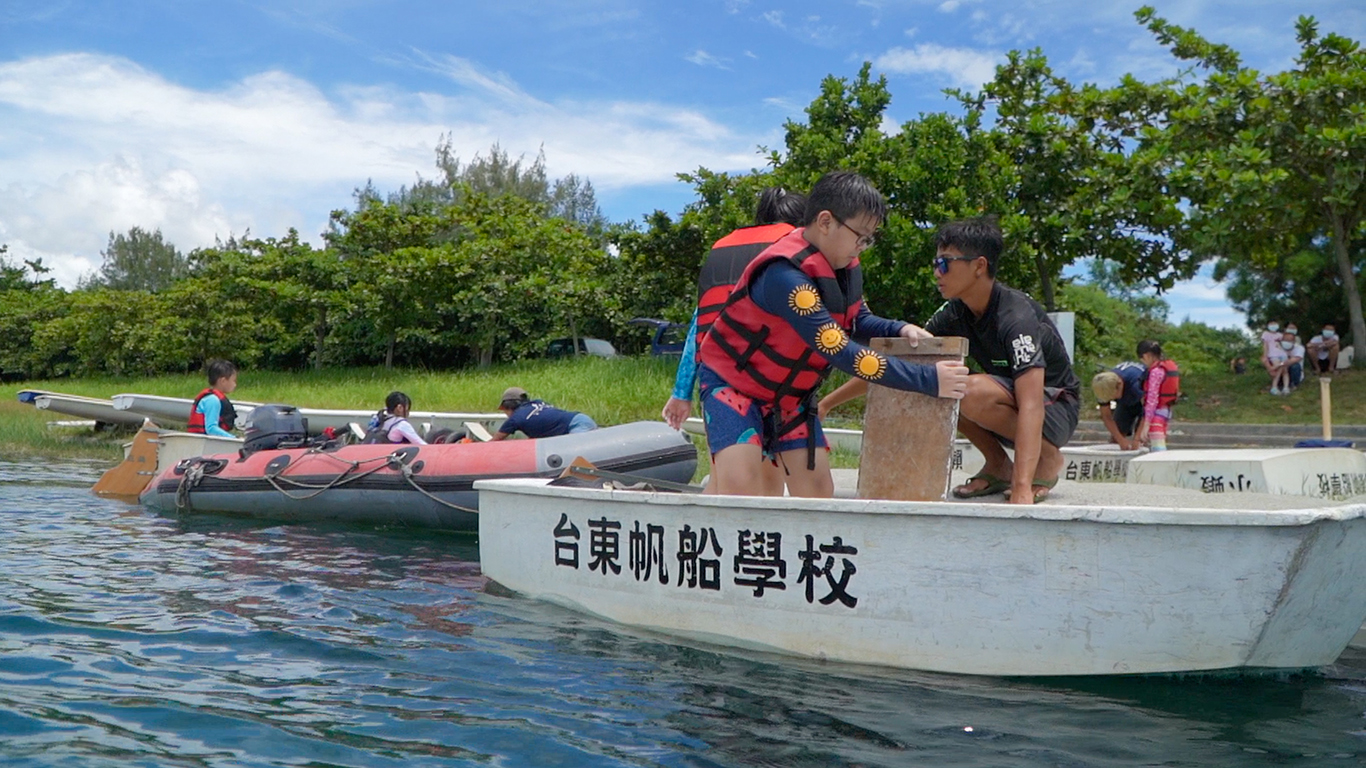 ---
 在大自然中對自己負責,學習如何與大自然和諧共處

 
Take responsibility for yourself in nature, learn to live in harmony with nature
「最近大家說著開放自然,其實我一開始聽不是很懂?海灘不是一直都在那裡嗎?永遠擁抱著大家。怎麼覺得說了開放之後,反而拉起了安全戒護網,游得正盡興時會突然有人對你吹口哨禁止。開放反而變成是另外一種限制。」隨著政府開放山林、開放海洋的政策,越來越多人願意走入大自然裡,但也看到了一些有趣的政策現象。越發的開放,反而形成了越多的管制。
「可以理解為什麼台灣的政府會有這樣的作法,但也因為這樣的保護,養成了很多『媽寶』吧!當我們不再是媽寶可以為自己的行為負責的時候,開放山林、開放海洋,才可能會有所突破吧!」生活在台灣七年的小飛說出了他的台灣觀察,面對邏輯與成長環境迥異的政策,更獨到地說出自己的看法。
讓自己成為一個能在自然中對自己負責任的人,而這也在台東帆船學校的教學中慢慢的實踐了,訓練孩子們有自信的面對各樣的困難與挑戰,認知會有風險,去觀察、去面對、去克服。在這裡,台東帆船學校教導的不只是個項運動,更是學習如何與大自然和諧共處的生活模式。
"Recently, people have been talking about opening nature, but I didn't understand it very well at first. The beach has always been there, embracing everyone. Why do I feel that after talking about openness, a safety net has been put up instead? When swimming with fun, someone will suddenly whistle at you and forbid it. Openness has become another kind of restriction." With the government's policy of opening up the mountains and the sea, more and more people are willing to go into nature. But we also see some interesting phenomena. The more openness, the more control.
"It is understandable why the Taiwanese government would do this, but it is also because of this protection that many "mama's boys" have been raised! When we are no longer mama's boys and can take responsibility for our actions, opening up the mountains and the oceans may be a breakthrough." Little Fei, who has been living in Taiwan for seven years, expressed his observations on Taiwan. Facing policies with very different logic against his growing environment, he can express his views more uniquely.
To become a person who can take responsibility for oneself in nature, which is slowly being put into practice in the teaching of Taitung Sailing School. He trains children to face all kinds of difficulties and challenges with confidence, and how to recognize the risks, and then how to observe, face and overcome them. Here, Taitung Sailing School teaches not only a sport, but also a lifestyle in harmony with nature.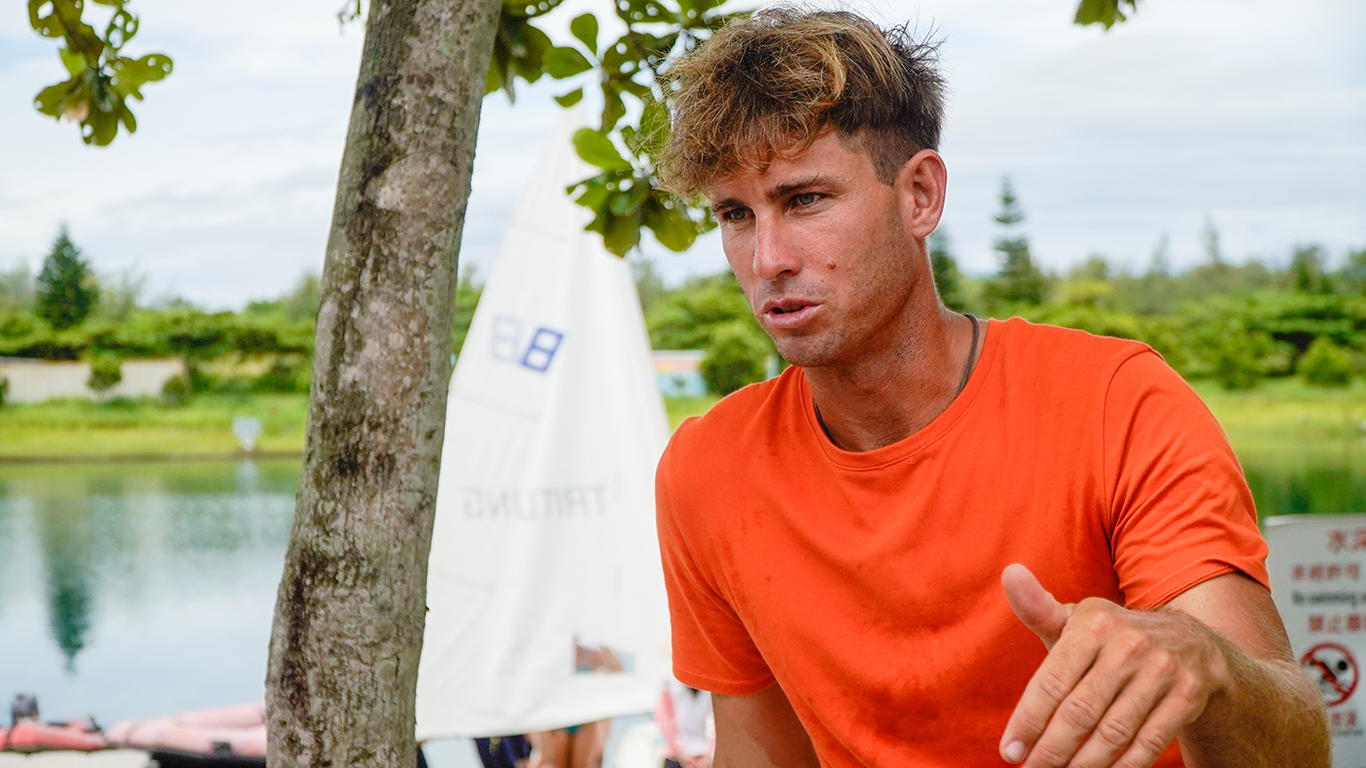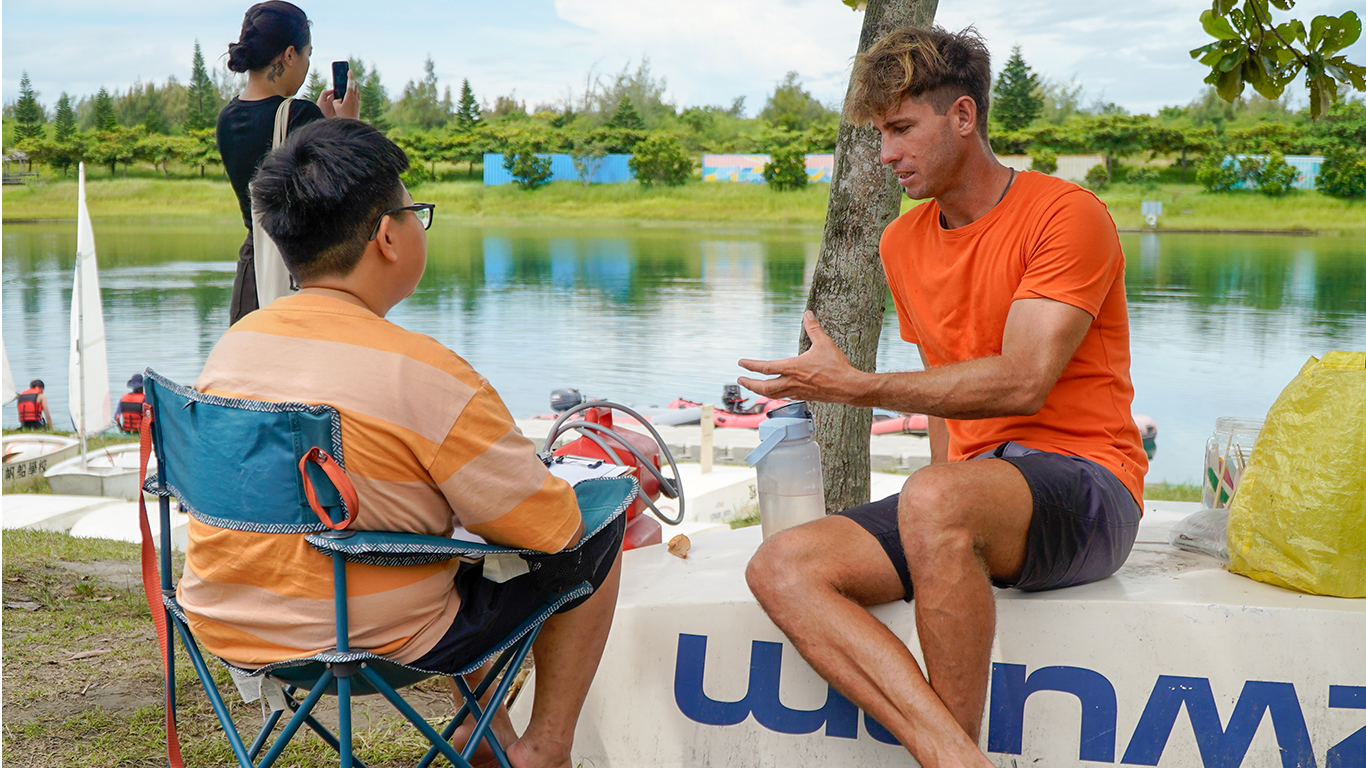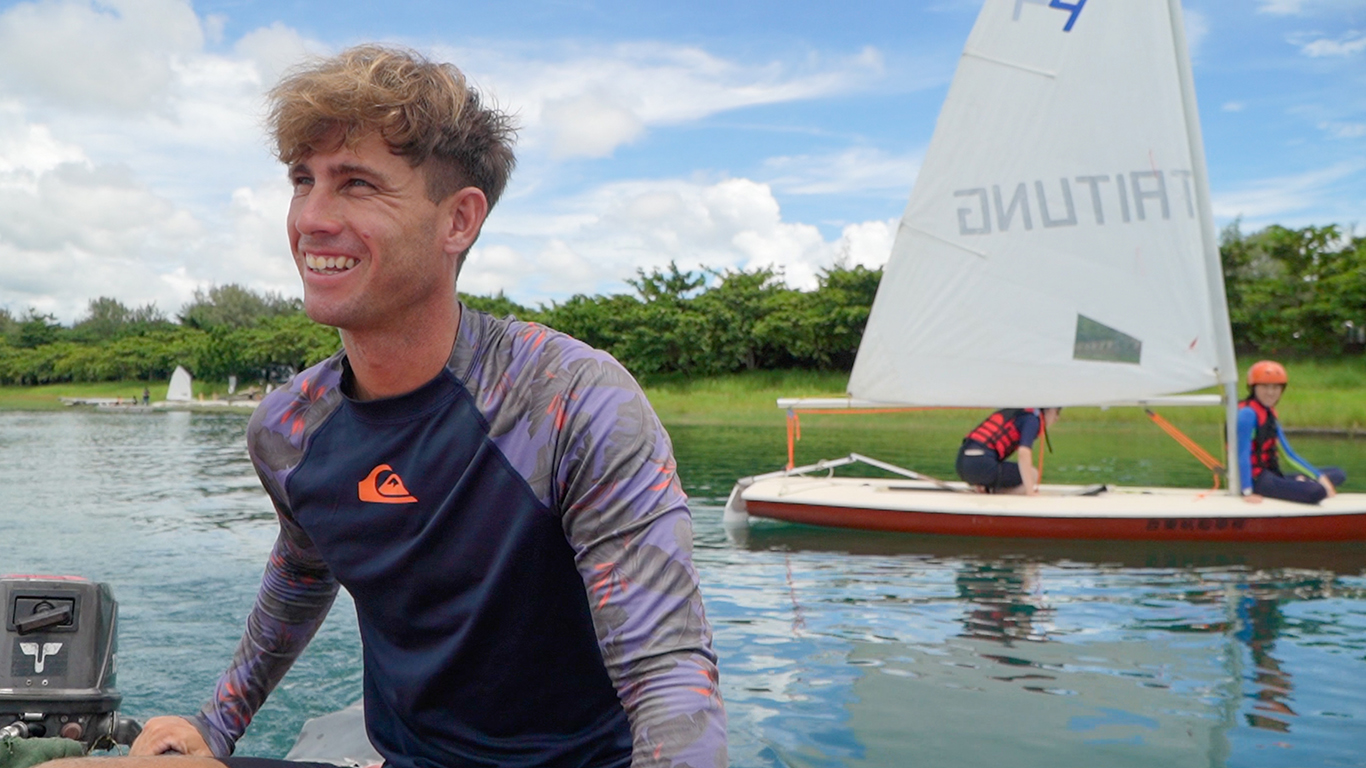 文/吳紀昀 By chi yun wu