削板師的浪尖人生 │ 安東尼衝浪板工作室
削板師的浪尖人生 │ 安東尼衝浪板工作室
A Lifestyle of a Surfboard Shaper -Anthony Surfboard Studio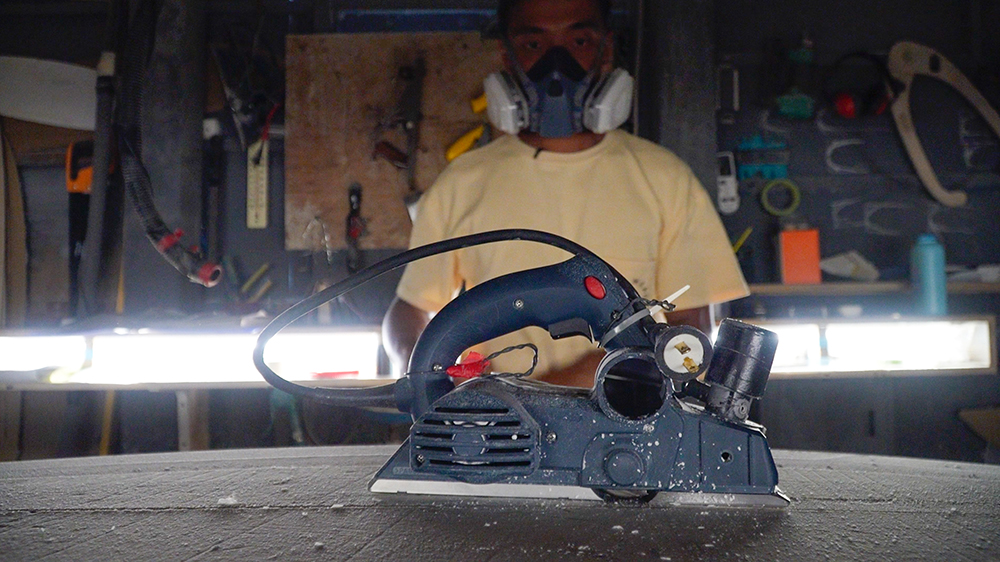 安東尼衝浪板工作室-浪人的基地
東河,是台灣三大衝浪勝地之一,尤其秋冬之際吹拂東北季風,更是適合衝浪的好時節,而就在這衝浪客雲集的山邊,有一處匯集起當地浪人網絡的基地,擁有相當專業的削板室、包板室、磨板室的空間,更是資訊與技術的交流園地,而這裡是由削板師-安東尼一手打造!問起安東尼接觸衝浪的緣起,他答道:「我從小就跟著姨丈在海邊玩水!那時候還不懂什麼衝浪,就拿著板跟浪玩耍而已。」
Donghe is one of the three major surfing spots in Taiwan, especially in autumn and winter, it is a good time for surfing. On the mountainside of this ocean, there is a base for professional board shaping, wrapping and grinding, and it is also a place for exchanging information and technology. Last but not least, here was made by Anthony, who is a local surfboard shaper! When asking Anthony when he started surfing, he replied "I've been playing in the sea with my uncle since I was a kid! Back then, I didn't know anything about surfing. Instead, I just played with waves with a board."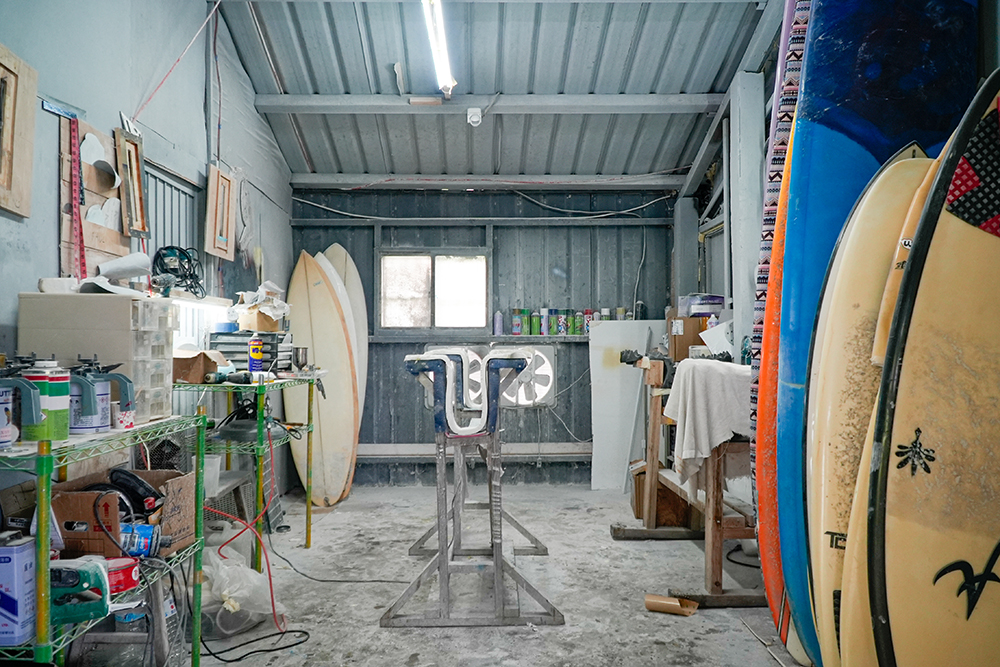 童年趣味的遊戲,逐漸成為生活中不可或缺的一部分,直到至日本打工度假,才接觸到削板師這門職業,也參觀了當地的工作室,看到各有特色與用途的衝浪板,與記憶中規格統一的衝浪板截然不同,可謂大開眼見!因此回台東後,便租了工作室空間,開始透過網路學習與摸索,直到一年前,因緣際會之下,認識了一位擁有四年削板師資歷的法國朋友,透過這位新朋友的專業協助,安東尼一點一滴築起現今的空間結構,也從中學到了許多削板知識。
The fun games of childhood have gradually become an indispensable part of life. It was not until he went to Japan for a working holiday that Anthony officially came into contact with the profession of the surfboard shaper. At the time, he also visited local studios and saw surfboards with a variety of features, which was different from the ones he remembered. "It was eye-opening!" he said. Therefore, after returning to Taitung, Anthony rented a space and began to study and explore on the Internet. Then, about a year ago, Anthony met a French friend who had four-years experience of surfboard shaper. Through the professional assistance of this new friend, Anthony built up the current spatial structure bit by bit, and also learned a lot of knowledge about surfboard shaping.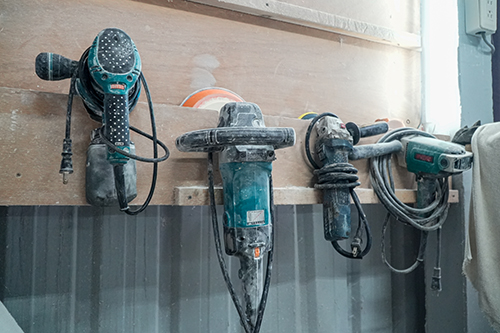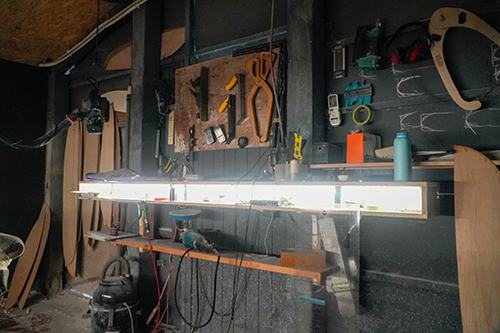 ---
削板三二一:全身心投入的精神旅程
一塊衝浪板,從零到有的製程,相信是不少人相當好奇的事!安東尼詳細地答道:「要做一塊衝浪板,首先要選擇不同種類的保麗龍,再來則選擇龍骨,也就是位於中央的木頭材質。當主要材質都確定後,便會移動到削板室進行塑形。因為保麗龍相當脆弱,只要稍微碰觸便容易變形,故在塑形完成後,我們會盡快包覆上一層樹脂與玻璃纖維,提供強度及韌性。而在上玻璃纖維的同時,也會同時上色,因此這也是個風格定義的重要程序。最後,我們會將衝浪板移至磨板室,再進行精細的打磨。一塊漂亮的衝浪板,就這麼完成了!」
The production process of surfboards is something that many people are quite curious about! Anthony answered in detail, "To make a surfboard, you must first choose different types of styrofoam, and then choose the keel, which is the wood material in the center. Once the main materials have been decided, shaping begins. Because styrofoam is very fragile, we will wrap it with a layer of resin and fiberglass as soon as possible after the shaping is completed, for providing strength and toughness. When the fiberglass is covered, it is also colored, so this is also an important procedure for style definition. Finally, we do the final grinding for the surfboard. Then, a beautiful surfboard is done!"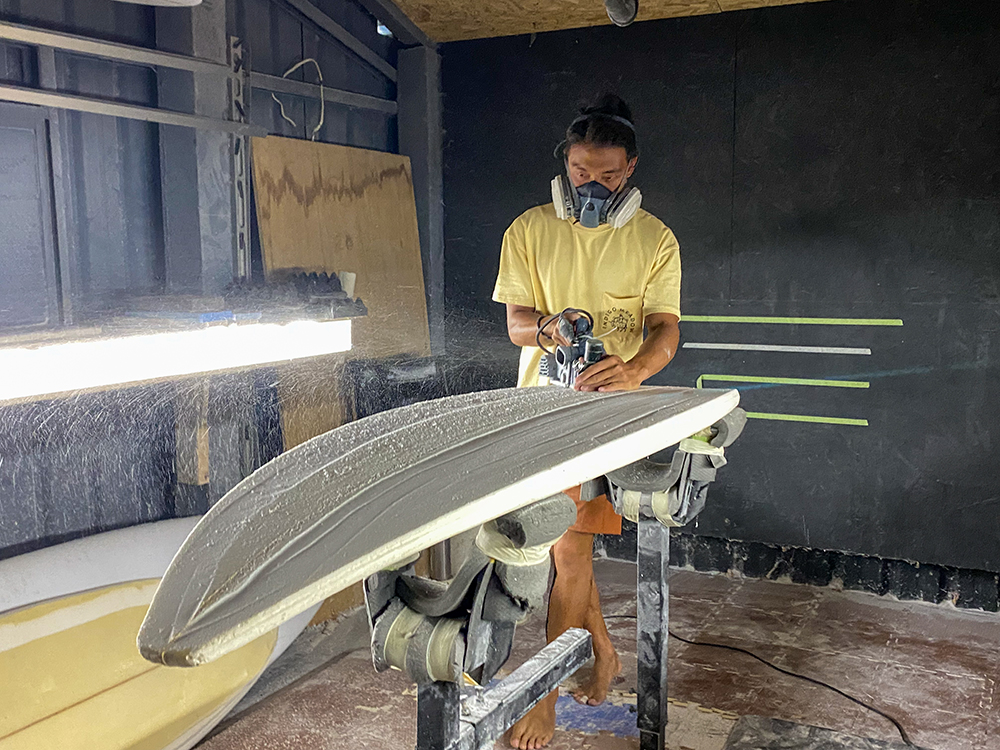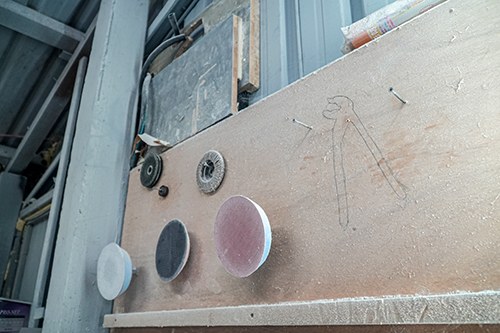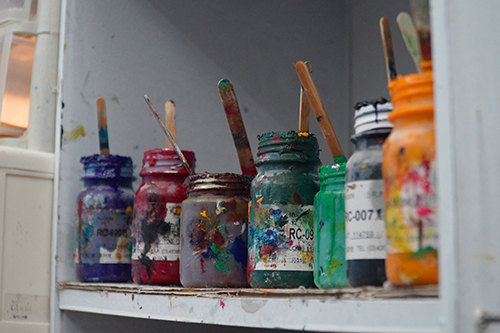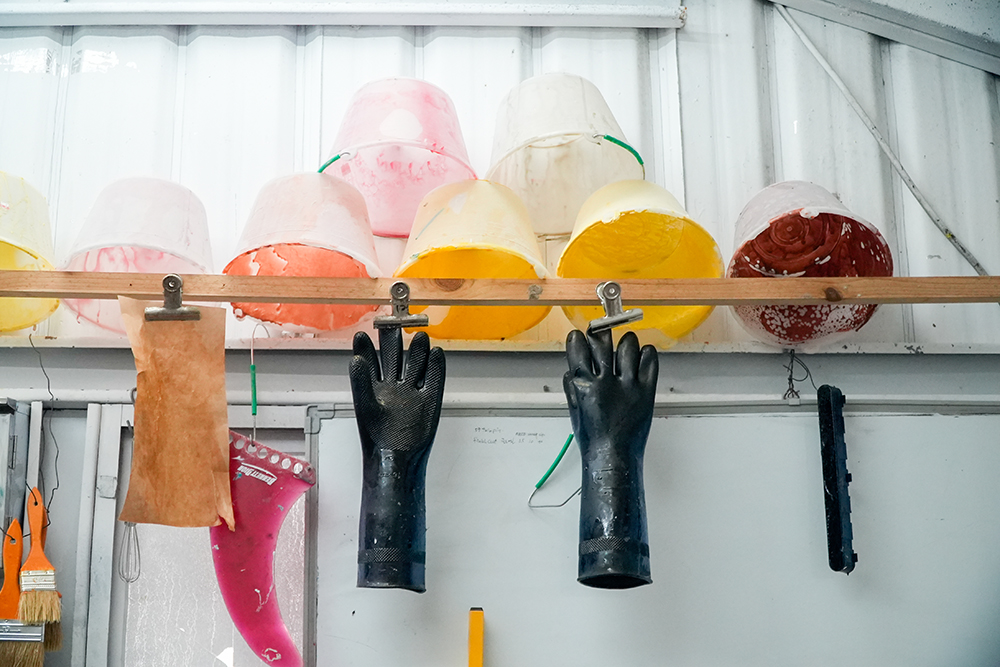 而這過程中,又有什麼需要格外注意的重點呢?安東尼思考了幾秒後說:「其實每分每秒,都要全神貫注。」以削板為例,削板師需藉由兩側的黃燈,始能清晰地觀察保麗龍的紋理,進而判斷如何下手,而削板的過程更是全身心投入的精神旅程,除了絕對不能留指甲之外,手掌與手指的力道拿捏也必須相當細膩,否則稍微失準,便會讓原本流暢的線條走樣。而後續包板、磨板也都是環環相扣,每一步都得做得剛好,才能製作出一塊完美的衝浪板。」
In this process, what are the key points to pay attention to? Anthony thought for a few seconds and replied, "Actually, it's a matter of paying attention every second." Taking shaping for example, the shaper needs to use the yellow lights on both sides to clearly observe the texture of the styrofoam, and then judge how to start, and the whole process of shaping is like a spiritual journey of physical and mental devotion. In addition to not keeping long nails, the operating force must be very careful. Otherwise, a slight misalignment will destroy the smooth lines. Then, the following steps are also crucial, and every step has to be done just right to make a perfect surfboard!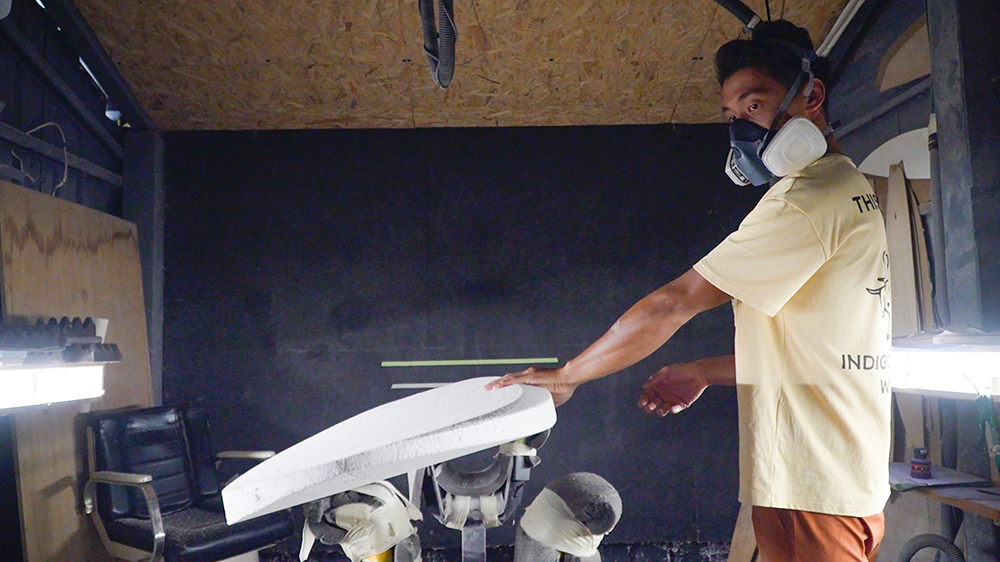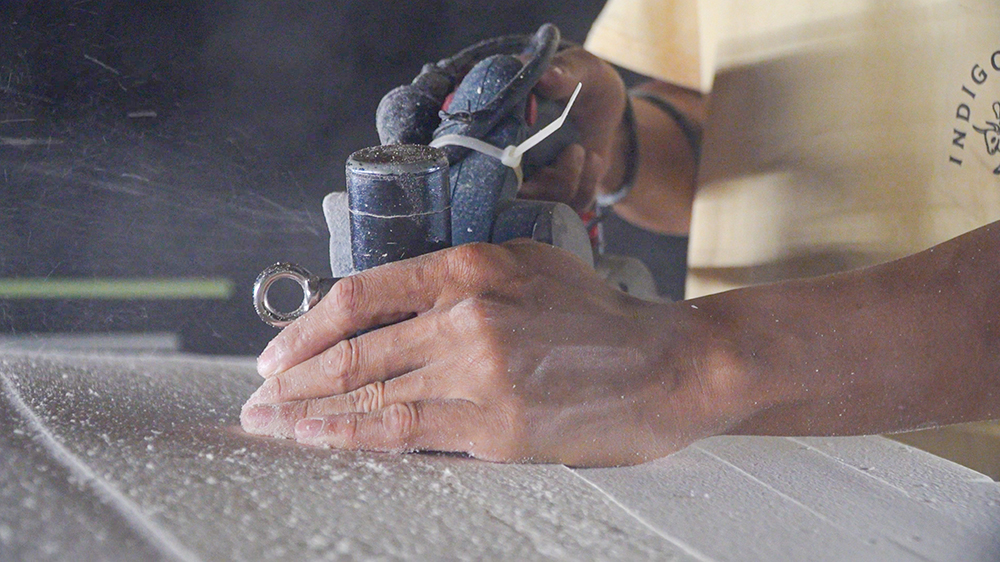 ---
一步一腳印!克服萬難踏出的削板之路
安東尼衝浪板工作室,成立至今約一年,從前期的摸索,到現在的茁壯,問及這一路最困難的事,安東尼回憶道:「在台灣,有關衝浪板的資訊比較少,台東也沒人會教,所以初期我都是看外國削板師的影片。」另一方面,資訊少也意味著資源亦不多。即便安東尼已從朋友身上習得了專業的削板知識,器材、原料仍是一大問題!安東尼舉例道:「比如衝浪板專用的保麗龍好了!美國、日本當地都有不少工廠在生產,但台灣不但沒生產商,也沒有進口商,因此如果要取得保麗龍,就必須找朋友一起進口一整個貨櫃,沒辦法少量購買。此外,你在架子上看到的大大小小器材,也幾乎都得從國外進口。」
Anthony Surfboard Studio has been around for about a year now. Asking what was the hardest part, Anthony recalled, "In Taiwan, there is little information about surfboards, and no one in Taitung could teach me, so I watched the videos of foreign shapers in the beginning." On the other hand, less information also means less resources. Even though Anthony has acquired professional knowledge of surfboard shaping from his friends, equipment and raw materials are still a big problem! Anthony said, "Taking styrofoam for surfboards as an example. There are many factories in the United States and Japan, but Taiwan not only has no manufacturers, but also no importers. Therefore, if you want to obtain Styrofoam, you must find friends to import a whole container together, and there is no way to buy a small amount. In addition, almost all the equipment on the shelf has to be imported from abroad."
除了原料不好取得之外,安東尼表示,削板師本身就是個對身體傷害較大的職業,包板的時候,會產生丙酮、苯乙烯這些有毒蒸氣,而磨板時,則會有大量的樹脂粉塵,以及機械的噪音以及濃郁的化學氣味,都是需要注意的因素,因此工作時總會配戴著防毒面具,以防對身體造成危害。即便如此,安東尼依舊熱愛這份興趣,也憑藉著這份熱情,一步步踏出了屬於自己的削板之路。
In addition to the fact that the raw materials are not easy to obtain, Anthony said, "in fact, the surfboard shaper itself is a profession that is harmful to the body." When wrapping the board, toxic vapors such as acetone and styrene will be generated. When grinding the board, there will be a lot of resin dust, mechanical noise and strong chemical odor. Thus, when Anthony works, he always wears a gas mask to prevent harm to his body. Despite all the difficulties, Anthony still loves surfing and surfboard shaping, and with this enthusiasm, he has created his own path.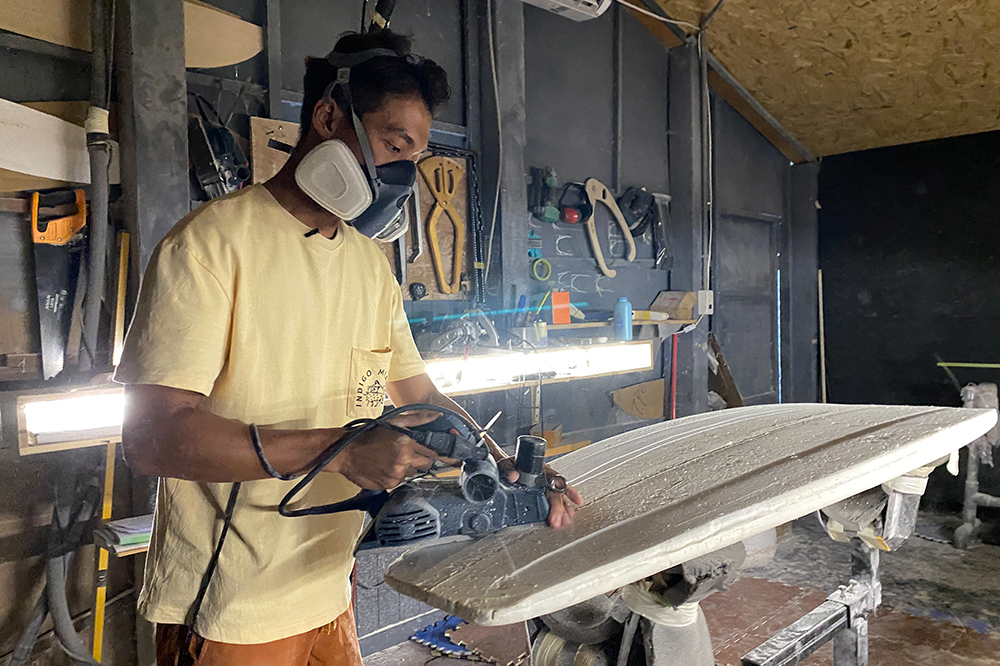 ---
自己的文化,自己創造!屬於浪人的生活價值
削板之路遇到困難,克服阻礙實屬精彩,問及是否曾有難忘的片刻,安東尼並未回答單一事件,而是:「沒有特別難忘的事,但每天都過得很快樂。」接著,他描述起自己的日常:「早上一起床,先看浪況好不好,有浪先衝浪,沒浪就去工作室,工作個三、四個小時後,休息一下,或許吃個飯,下午再繼續工作,若當日工作告一個段落後,也會再去衝個浪。工作與生活密切交融,很自由,也需要很自律,但我覺得自己很幸運,能擁有這樣的生活模式。」談到親手為自己打造的生活,安東尼的笑容,藏也藏不住。
Asking Anthony if there was a memorable moment, he didn't answer a single event, instead he said, "Nothing particularly memorable, but every day was a joy." Then, he described his daily life, "When I get up in the morning, I will check the wave condition first, surf first if there is a wave, and go to the studio if not. After working for three or four hours, I will take a break, maybe have a meal, and continue working in the afternoon. If the work of the day comes to an end, I will go surfing again. Work and life are closely intertwined. This state is really free, and requires self-discipline at the same time, but I consider myself lucky to have such a lifestyle." When it comes to the life he built for himself, Anthony can't hide his smile.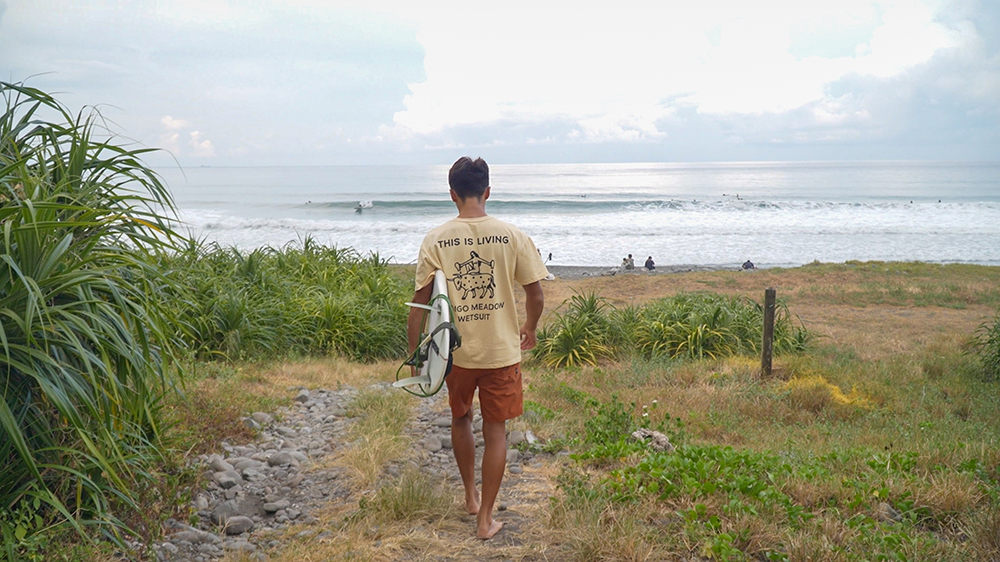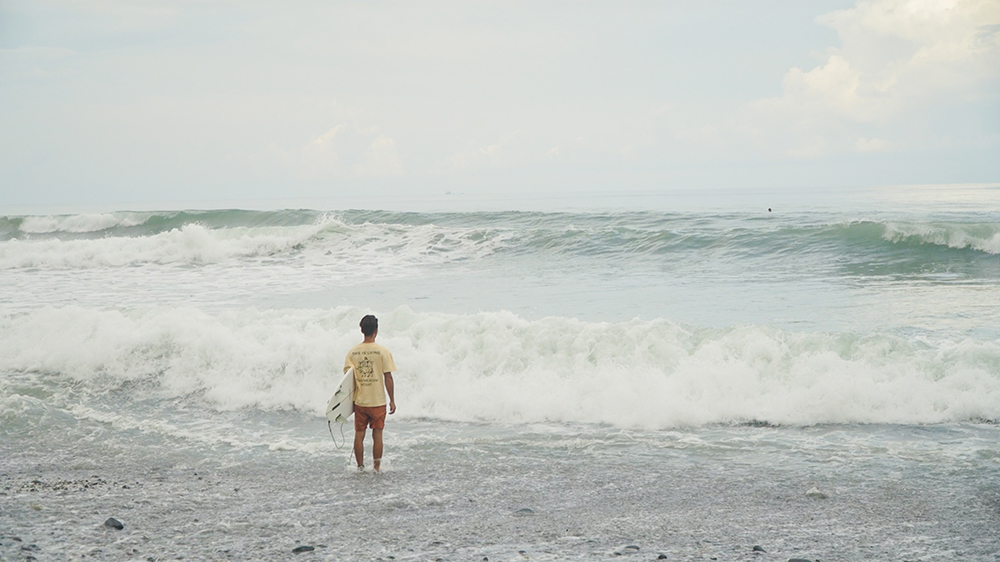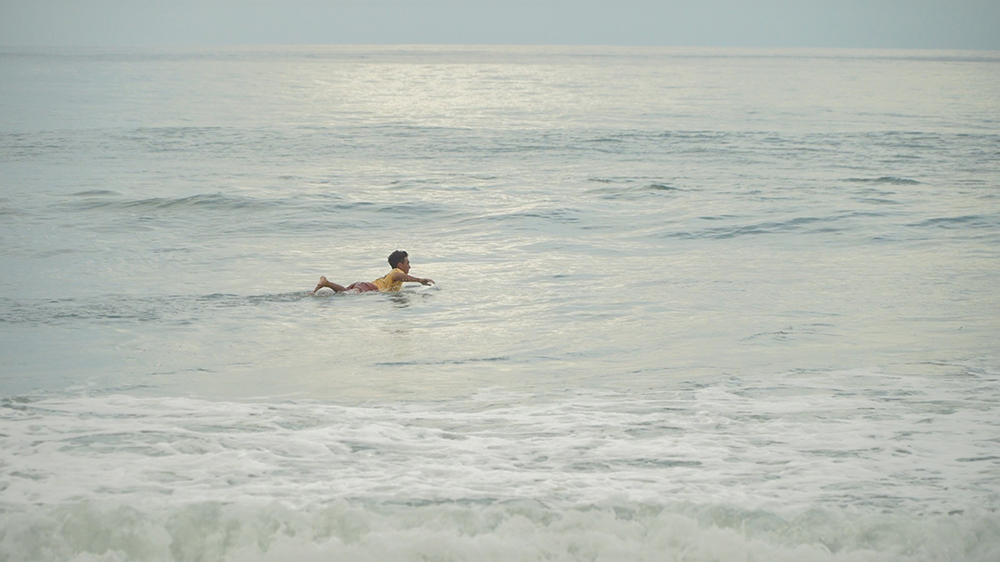 現在,安東尼衝浪板工作室不只是工作室,更成為了衝浪板的交流平台,可以來工作、可以來學習,也可以進行技能交換或專業交流,是自由度很高的空間。安東尼說:「以前,台東沒有什麼削板資源,現在,我們可以慢慢開始累積。我也希望能在自己能力範圍內,幫助大家做自己想做的事,或讓浪人們找到適合自己的生活方式。」那工作室未來的規劃呢?安東尼答道:「我是這裡的營運者,但我不是大家的老闆,我希望來這裡的大家,都是自由地提供不同的養分,也能帶更多人來這裡,讓這裡更加穩固茁壯。當浪人們聚集在一起,就會創造自己的風格、催生自己的文化,進而可以傳承下去。這對我來說是最重要的一件事!」
Nowadays, Anthony Surfboard Studio is not just a studio, but a platform for surfboards. You could work here, study here, also could do skills or professions exchange, which is a space with a high degree of freedom. Anthony said, "There were few surfboard-shaping resources in Taitung before, but from now on, we could start accumulating. I also hope to help people do what they want to do, or let surfers find a way of life that suits them." And how about the future plan for the studio? Anthony replied, "I'm the operator here, but I'm not everyone's boss. I hope that everyone who comes here will provide different nutrients freely, and bring more people here to make this place more stable and strong. When surfers come together, they create their own style, which turns into a culture that can be passed on. This is the most important thing for me!"