不急夫婦 Nosoon Couple -用愛轉動品牌 開展原住民文創的新視野 Run the Brand with Love, Develop a New Vision of Indigenous Cultural and Creative Industry
說到東河,你想到什麼?你可能曾停在這吃肉包,或特地來觀賞臺灣國際衝浪公開賽,但今天我們拉開一場知性輕旅行的序幕,拜訪臺東新生代文創品牌-不急夫婦的基地,並聽他們聊聊關於原住民文創的故事吧!
What's your impression about Donghe? You may have stopped here eating pork bao, or specially came to watch Taiwan Open of Surfing, but today we'll begin a different trip! We're going to visit Nosoon Couple, who is the founder of the new cultural and creative brand of Taitung, and listen to their story!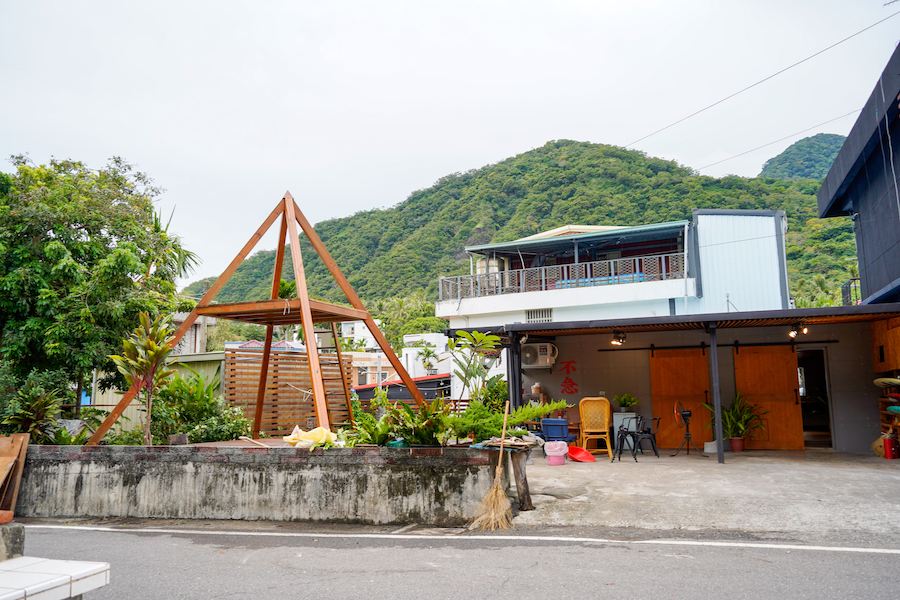 臺東新生代文創品牌-不急夫婦,由夷勇與蓉婷兩人於2013年成立,這對阿美男與客家女的夫妻居住於東河部落,平時經常在Instagram分享種種生活點滴,一隻狗、兩隻貓、夫妻倆與喜感十足的奶奶,交織出笑料滿點的家庭日常,讓人看著就嘴角上揚。而多采多姿的部落生活也是圈粉無數的原因之一,夏天去海邊衝浪、抓海膽,或單純曬曬太陽,冬天圍著火光談天說地,即便因工作需求得去拍攝商品宣傳照,也不忘在瀑布邊游泳放鬆,當然也少不了健身、穿搭、改造房屋等日常分享。這時你會驚訝地發現,這文創品牌的社群頁面,最多的竟然不是設計圖?這正是不急夫婦的魅力,生活才是品牌的核心。
Nosoon Couple, which is a new-generation cultural and creative brand founded by Yi-yong and Rong-ting in 2013. This Amis male and Hakka female couple live in Donghe tribe, and they often share their life stories on Instagram. A dog, two cats, the couple and a lovely grandma intertwined an interesting family life, making people can't help but smile. And the colorful tribal life is also one of the reasons why they've got countless fans online. In summer, they go to the beach for surfing, catching sea urchins, or just basking in the sun, and in winter, they chat around the fire. Even if they need to take product promotional photos, they won't forget to swim by the waterfall. Of course, there are also many daily shares such as fitness, dressing and remodeling of the house. Now, you may be surprised to find that the largest proportion of the Nosoon couple's social page is not about their designs! This is their charm. Life is the core of this brand.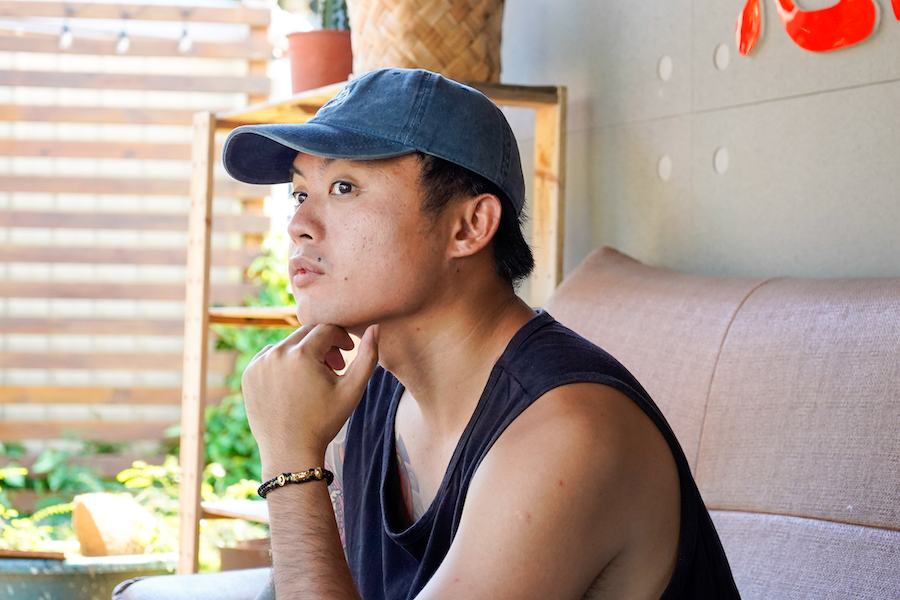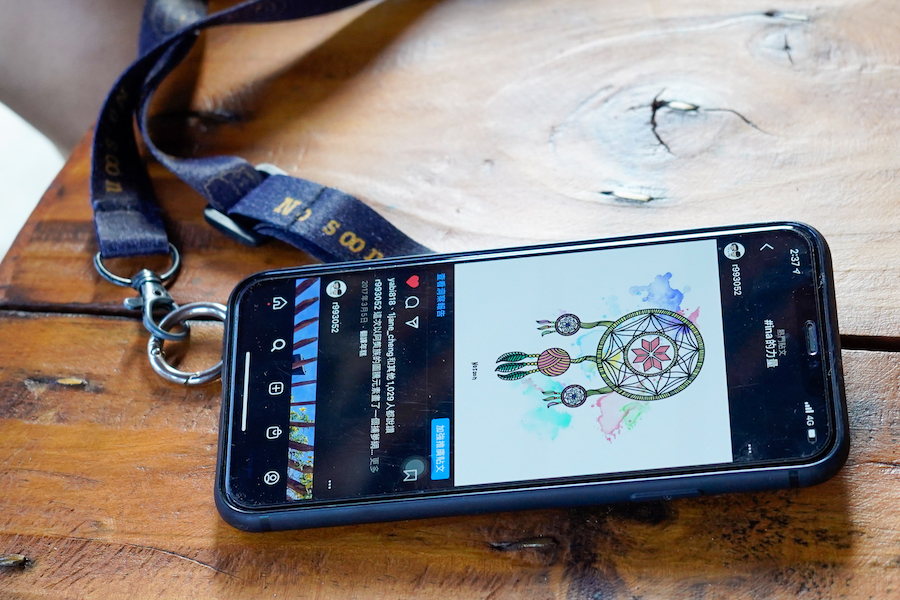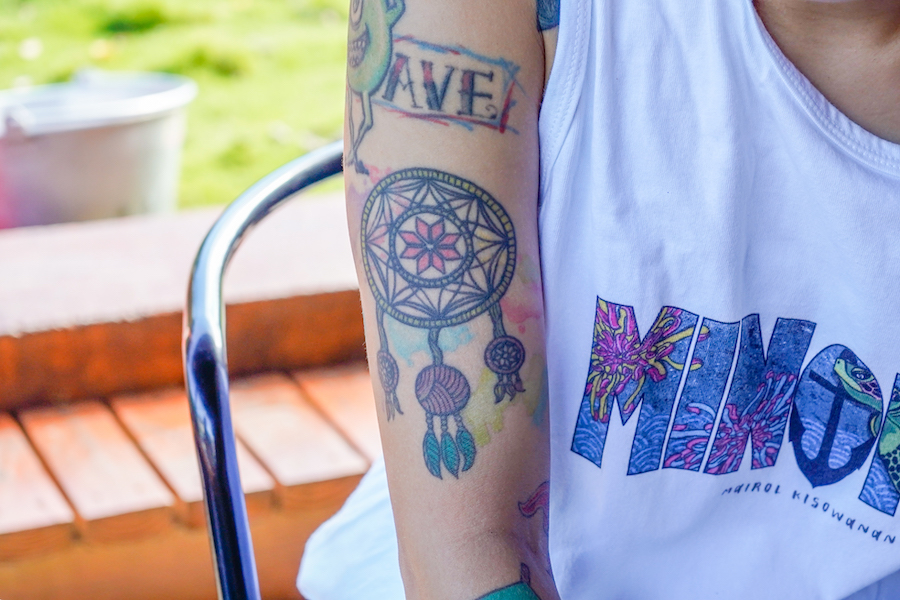 聊到品牌緣起,就得溯及夫妻倆的邂逅。夷勇與蓉婷從大學時期開始交往,由於蓉婷從小就喜愛畫畫,即便不是就讀相關科系,也一直維持著畫圖的習慣,不過當時僅翻玩卡通人物或畫客製人像。是直到大三,教授將其作品推舉為文創才藝獎,她才開始思考自己的作品與文創的關聯。有鑒於自身對原住民文化的喜愛,她經常拉著夷勇一同修習許多文化課程,並從中獲得不少養份,經過教授的提點,她才決心結合兩項喜好,發展原住民文創。當時蓉婷問夷勇:「我們的品牌要叫什麼名字啊?」他回:「不急啊,慢慢想。」這就是不急夫婦的名稱由來。由於創作類型天差地遠,最初他們以原住民十六族的插畫作為轉型宣言,後來的創作則專注於阿美族文化,Ina的力量與愛在星裡兩張設計,就是以阿美族最具代表性的八角星圖騰為藍本,結合檳榔、情人袋、捕夢網等意象,創造出原住民文創的不同風光。
When it comes to the origin of the brand, it's necessary to trace the encounter between the couple. Yi-yong and Rong-ting have started a relationship since they were in college. Because Rong-ting had loved drawing since she was a child, she had always maintained the habits of drawing even if she was not studying in a related department. However, she only sampled cartoon characters or painted customized portraits at that time. It wasn't until her junior year when the professor elected her work as the Cultural and Creative Talent Award that she began to think about the connection between her work and the cultural and creative industry. In view of her love of indigenous culture, she often took Yi-yong to take cultural courses together, and obtained a lot of nourishment from it. So with the mention of the professor, she determined to combine these two preferences to develop indigenous culture and creative work. At that time, Rong-ting asked Yi-yong, "What is the name of our brand?", Yi-yong replied, "No need to rush. Just take our time." And this is the origin of the name "Nosoon Couple". Due to the huge differences in the type of creation, they initially used the illustrations about 16 indigenous ethnic groups as a declaration of transformation, and later their creation focused on Amis culture, like Ina's Power and Love in the Star, these two designs was based on the eight-pointed star which is the most representative totem in Amis culture, combined with imagery such as the betel nut or the dream catcher, to create a different scenery of indigenous cultural and creative work.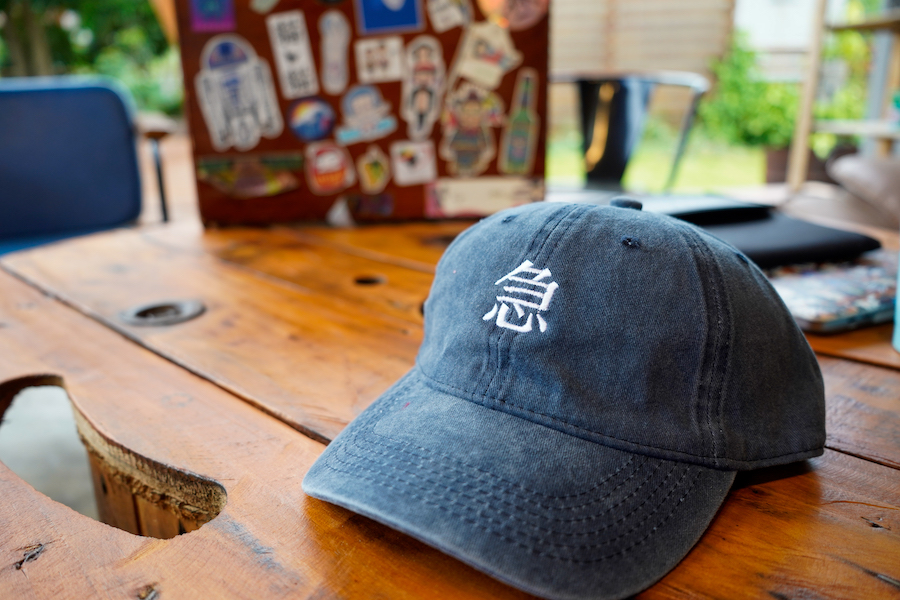 「起初品牌還是以傳統圖紋為創作主體,是搬回臺東生活一年後,才奠定我們現在的風格。」蓉婷說,接下來的歸來、鯨生、無恙三幅設計,才是真正鎔鑄部落生活、家族故事與原住民精神的作品。歸來的主體是MINOKAY,是阿美族語「回家」之意,文字裡畫著海龜、船錨、牡丹、菊花等意象,象徵離鄉背井的遊子,對家鄉的無限念想;鯨生的主體是鯨落的故事,當鯨魚過世後,屍體會緩緩沉落海底,成為其他生物的綠洲,就像部落老人家會在過世前將智慧傳給下一代一樣,別具意義;無恙的主體則是山羊頭的御守,以羊穿梭峭壁間的習性,比擬人在社會中求生存的凶險,上方Faloco'是阿美族語「心臟」之意,勉勵大家都能有顆不凡的強心臟。這三件作品的共通點,是都無法第一眼就指認出與原住民文化有關,但當你仔細閱讀設計理念,你會明白這正是原住民文創的嶄新格局,沒有刺繡、圖騰等傳統元素,謹將原住民的精神化為圖像,極其迷人。
"In the beginning, this brand was created with traditional patterns. It was a year after returning to Taitung to establish our current style." Rong-ting said that the following three designs truly combine tribal life, family stories and the indigenous spirits. The first one is named Returning. Its main body is MINOKAY, which means "go home" in Amis language, a turtle, an anchor and a peony flower is painted in the text, symbolizing the wanderer's infinite miss for the hometown. The second one is named Whale-Life, its main body is the story of whale fall. When the whale passes away, its corpse will slowly sink to the bottom of the sea and become an oasis for other creatures, just like the tribal elders will pass their wisdom to the next generation before they pass away, which is of special significance. The newest one is named Safe and Sound. Its main body is the Japanese Omamori with a goat's head, using the goat's habit of walking among the cliffs to compare the dangers of human survival in society. Faloco' at the top means "heart" in Amis language, encouraging everyone to have a strong heart. The common point of these three works is that none of them can be identified to be related to indigenous culture at first glance, but when you read the design concept, you will understand this is exactly the whole new pattern of the indigenous cultural creation. Without embroidery, totems and other traditional elements, the indigenous spirit is directly transformed into images, which is extremely charming.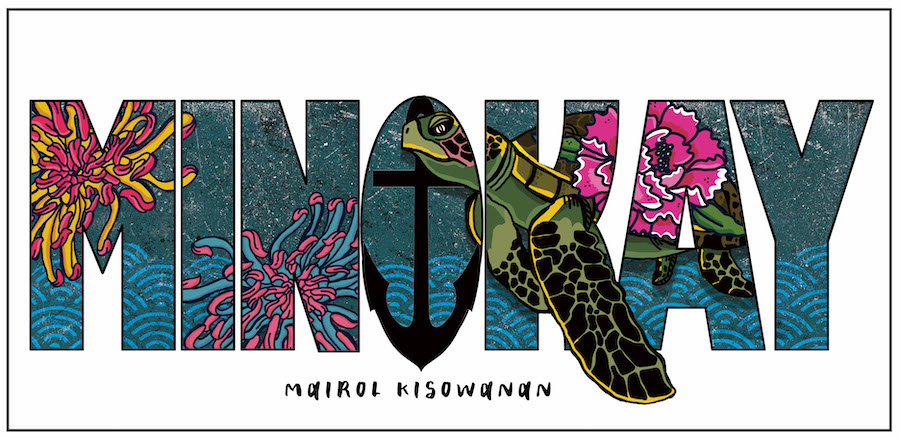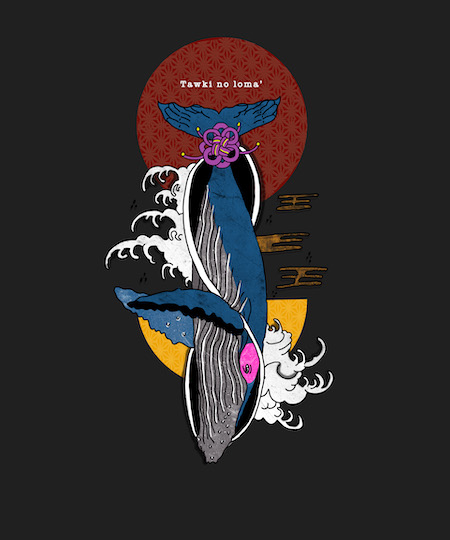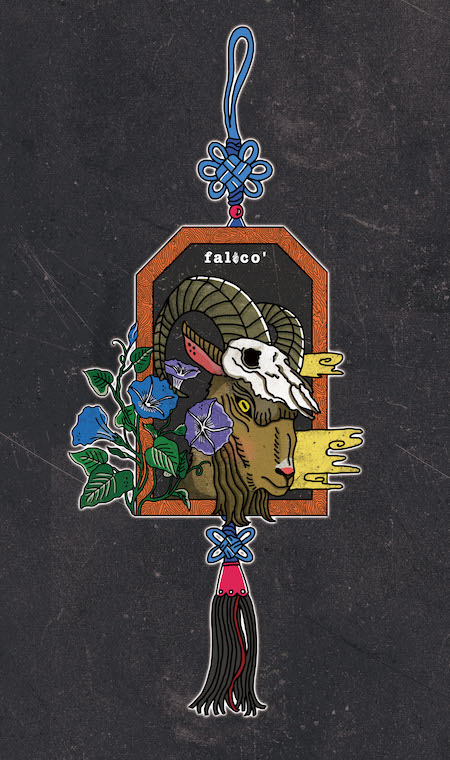 歸來、鯨生、無恙(圖片提供:不急夫婦 picture provided by:Nosoon Couple)
夷勇返鄉生活,扮演精神核心與幕後推手;蓉婷專心創業,扮演設計師及社群行銷,一路走來,不急夫婦相輔相成。問起品牌創立以來最難忘的事,蓉婷說,品牌創立之初,她為了多了解原住民文化而超修學分,根本沒時間打工,加上她當時出的貼紙一張只賣10元,因此也賺不了什麼錢,而夷勇為了支持蓉婷追夢,就去打工賺取兩人的生活費,她清楚記得每個月的發薪日,她們都會一起把錢存進小豬撲滿,小心翼翼守護著努力的成果。夷勇接著說,他最難忘的也是那段時光,他愛她,所以願意支持她想做的事情,而也是因為蓉婷拉著他一起去上課、回部落,才蛻變成現在這麼愛部落、認同文化的夷勇:「我助她創業,她讓我成長,我們缺一不可。」最後問起未來的計畫,他們說:「我們想規劃一個東河部落的深度遊程,帶大家一起上山下海、吃喝玩樂,做手作品也可以,主要是希望結合部落裡的職人,不只能讓更多人認識阿美族文化,也為部落創造工作機會。」光想到不久的將來,會有更多人親身體驗不急夫婦的生活魅力,就令人興奮不已,相信他們會再次證明文化創意的視野,毋需設限。
Yi-yong returned home to live a tribal life, acting as the spiritual core and behind-the-scenes helper, and Rong-ting started a brand, acting as a designer and social marketer. Along the way, they complement each other. Asking about the most unforgettable thing, Rong-ting said that when the brand was just founded, she took extra credits in order to learn more about the indigenous culture, so she had no time to work. In addition, the sticker she produced at that time only sold for NT$10, which can not make money. To support Rong-ting's pursuit of her dream, Yi-yong went to work to cover the living expenses of two people. She clearly remembered that on the payday every month, they would deposit money in the piggy bank together, carefully guarding the results of their hard work. Yi-yong went on saying that it's also the most unforgettable period for him. He loves her, so he is willing to support what she wants to do, and it's also because Rong-ting had taken her to go to classes and returned to the tribe together, he has transformed into a man who loves his tribe and identifies with his culture so much. "I helped her start a business, and she made me grow. We are indispensable." In the end, referring to the future plans, they said, "We want to plan an in-depth tour of Donghe tribe, taking everyone up to the mountain and down to the sea, eating, drinking or making handicrafts together. The main purpose is to combine the craftsmen of our tribe! Not only letting more people know Amis culture, but also creating jobs for our tribe." It's very exciting that in the near future, there will be more and more people experiencing the charm of Nosoon Couple's lives. I believe they will again prove that the vision of cultural and creative work doesn't need to be restricted.